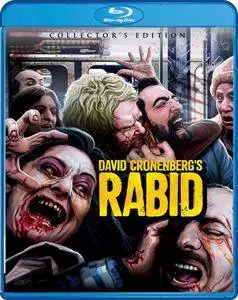 Rabid (1977)
BDRip 720p | MKV | 1280 x 720 | x264 @ 2560 Kbps | 1h 30mn | 2,11 Gb
Audio: English AC3 2.0 @ 192 Kbps + 3 Commentary tracks | Subs: English
Genre: Horror, Sci-Fi | Director: David Cronenberg
A young woman develops a taste for human blood after undergoing experimental plastic surgery, and her victims turn into rabid, blood-thirsty zombies who proceed to infect others, which turns into a city-wide epidemic.
Rabid (1977) is a strange film about a parasitic virus that inhabit's the body of a young woman (Marilyn Chambers). She receives this strange mutation after a new experimental procedure is performed upon her after she and her boyfriend were involved in a motorcycle accident. The doctors at a plastic surgery clinic save her life but her body revolts and mutates against the new cellular structure. The staff at the clinic and it's patients must answer for trying to defy nature.

A very good film from David Cronenberg. He further explores the topic of man fighting mutations from within or trying to change human nature. it's a topic that he returns to from time to time. He started off from Shivers and continued it in Rabid, The Brood, Scanners and Videodrome. Like most of his earlier films, this one was shot in around around the province of Quebec. Partially funded by the Canadian government, this twisted low budget wonder is a must for cerebral horror fans and Cronenberg devotees. Rabid benefits from the director's trademark clinical and cold aura.

I have to highly recommend this flick. the one I saw clocked it at almost 92 minutes. I haven't seen this film in awhile. I watched it on a D.V.D. import from Canada. I don't know how long the U.S. release was but this version seemed to have a little more blood than the one I watched seven years ago on an old V.H.S. copy. The Canadian Disc had a feature length commentary by David Cronenberg, a twenty some odd minute interview and a few other extras. The movie was restored and in it's proper film format.

Highly recommended.
(Enlargeable)

Commentaries:
1) Audio Commentary with director/writer David Cronenberg
2) Audio Commentary with critic William Beard
3) Audio Commentary with author Jill C. Nelson and Marilyn Chambers' personal appearances manager Ken Leicht