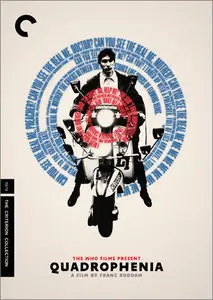 Quadrophenia (1979) [Criterion Collection]
DVD Video, 2 x DVD9 | 1hr 59mn | NTSC 16:9 | 720x480 | 7.92 Gb + 5.59 Gb
English: Dolby AC3, 2 ch \ Dolby AC3, 6 ch \ Dolby AC3, 2 ch
Subtitle: English
Genre: Crime | Drama | Music
IMDB Rating: 7.3/10 (13.426 votes)
Director:
Franc Roddam
Writers:
Dave Humphries, Martin Stellman
Stars:
Phil Daniels, Leslie Ash, Philip Davis
London, 1965: Like many other youths, Jimmy hates the philistine life, especially his parents and his job in a company's mailing division. Only when he's together with his friends, a 'Mod' clique, cruises London on his motor-scooter and hears music such as that of 'The Who' and 'The High Numbers', he feels free and accepted. However, it's a flight into an illusionary world.
Disc 1. Contains:
- Audio commentary by director Franc Roddam and cinematographer Brian Tufano
- Trailers

Title: Quadrophenia.79.Cr.D1
Size: 7.92 Gb ( 8 306 916,00 KBytes ) - DVD-9
Enabled regions: 1, 2, 3, 4, 5, 6, 7, 8

VTS_01 :
Play Length: 00:00:00
Video: NTSC 16:9 (720x480) VBR, Auto Letterboxed

VTS_02 :
Play Length: 00:01:38
Video: NTSC 16:9 (720x480) VBR, Auto Letterboxed
Audio:
English (Dolby AC3, 1 ch)

VTS_03 :
Play Length: 00:01:14
Video: NTSC 4:3 (720x480) VBR
Audio:
English (Dolby AC3, 2 ch)

VTS_04 :
Play Length: 01:59:53
Video: NTSC 16:9 (720x480) VBR, Auto Letterboxed
Audio:
English (Dolby AC3, 2 ch)
English (Dolby AC3, 6 ch)
English (Dolby AC3, 2 ch)
Subtitles:
English

VTS_05 :
Play Length: 00:00:20
Video: NTSC 16:9 (720x480) VBR, Auto Pan&Scan

VTS_06 :
Play Length: 00:00:00
Video: NTSC 4:3 (720x480) VBR

Disc 2. Contains:
- Segment on the film from a 1979 episode of the BBC series Talking Pictures, featuring interviews and on-set footage
- Segment from a 1964 episode of the French news program Sept jours du monde about mods and rockers
- Video with coproducer and Who comanager Bill Curbishley
- Video interview and restoration demonstration with Who sound engineer Bob Pridden

Title: Quadrophenia.79.Cr.D2
Size: 5.59 Gb ( 5 866 432,00 KBytes ) - DVD-9
Enabled regions: 1, 2, 3, 4, 5, 6, 7, 8

VTS_01 :
Play Length: 00:00:00
Video: NTSC 16:9 (720x480) VBR, Auto Letterboxed

VTS_02 :
Play Length: 00:26:06
Video: NTSC 4:3 (720x480) VBR
Audio:
English (Dolby AC3, 1 ch)

VTS_03 :
Play Length: 00:08:18
Video: NTSC 4:3 (720x480) VBR
Audio:
English (Dolby AC3, 1 ch)
Subtitles:
English

VTS_04 :
Play Length: 00:13:41
Video: NTSC 16:9 (720x480) VBR, Auto Letterboxed
Audio:
English (Dolby AC3, 2 ch)

VTS_05 :
Play Length: 00:07:49
Video: NTSC 16:9 (720x480) VBR, Auto Letterboxed
Audio:
English (Dolby AC3, 6 ch)

VTS_06 :
Play Length: 00:34:28
Video: NTSC 4:3 (720x480) VBR
Audio:
English (Dolby AC3, 1 ch)
Subtitles:
English

VTS_07 :
Play Length: 00:00:00
Video: NTSC 4:3 (720x480) VBR