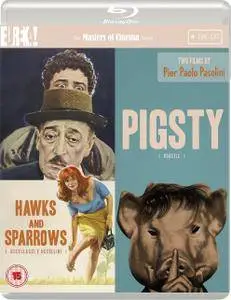 Pigsty (1969)
BDRip 720p | MKV | 1280x692 | x264 @ 7440 Kbps | 97 min | 5,53 Gb
Audio: Italiano AC3 2.0 @ 640 Kbps | Subs: English (embedded in MKV)
Genre: Art-house, Drama
Director:
Pier Paolo Pasolini
Writer:
Pier Paolo Pasolini
Stars:
Pierre Clémenti, Jean-Pierre Léaud, Alberto Lionello
Two dramatic stories. In an undetermined past, a young cannibal (who killed his own father) is condemned to be torn to pieces by some wild beasts. In the second story, Julian, the young son of a post-war German industrialist, is on the way to lie down with his farm's pigs, because he doesn't like human relationships.
Perhaps Pasolini's most complex and difficult film, a two-strand tale about firstly the son of a wealthy industrialist who likes having sex with pigs, and secondly a medieval cannibal whose motto is "I killed my father, I ate human flesh, and I quiver with joy." At first, the two tales appear to have little relation with one another, other than a shared focus on extremely transgressive desires. But on closer inspection, the cannibal seems to be the dream Id of the son of the bourgeoisie, and the mythic tale operates in the subconscious of the contemporary one.

The style of the film is very cryptic and deliberately unapproachable but there is method in Pasolini's madness. The industrialist and his rival are comic figures of monstrous proportion, and seem to represent the old-style Capitalism, with its factories blotting the landscape of Western cities, and the new Capitalism, whose factories are out-of-site in some third world clime. The second capitalism is equated with Nazi-ism, and an uneasy truce is reached between the two faces of Capitol. It is in that truce that Pasolini seems to be suggesting that those of us in Western societies live our consumer lives. Probably his second bleakest film, after of course Salo.
(click to enlarge)

More in My Blog