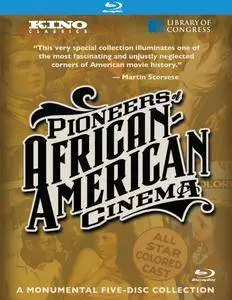 Pioneers of African-American Cinema. Blu-Ray 1 (2015)
Blu-Ray | BDMV | AVC, 1920x1080, ~21.0 Mbps | 4hr 30mn | 44,7 GB
English: Dolby Digital Audio, 2 ch, 256 kbps
Subtitles: English
Genre: Silent, Short Films, American Independent, African-American, National Film Registry
Amazon.com
Kinolorber.com
Studio:
Kino Lorber
Year:
1915-1946
This collection of the historically vital works of America's legendary first African-American filmmakers is the only one of its kind. Funded in part by a highly successful Kickstarter campaign, the packaged set includes no fewer than a dozen feature-length films and nearly twice as many shorts and rare fragments. Subject matter includes race issues that went unaddressed by Hollywood for decades.
Films: Birthright (1938), The Blood of Jesus (1941), Body and Soul (1925), The Bronze Buckaroo (1939), By Right of Birth (fragment, 1921), Commandment Keeper Church, Beaufort, South Carolina (excerpt, 1940), The Darktown Revue (1931), Dirty Gertie from Harlem USA (1946), Eleven P.M. (1930), The Exile (1931), The Flying Ace (1926), God s Stepchildren (1938), Heaven-Bound Traveler (1933), Hellbound Train (1930), Hot Biskits (1931), Mercy the Mummy Mumbled (1918), Regeneration (fragment, 1923), The Scar of Shame (1929), S.S. Jones Home Movies (1924-26), The Symbol of the Unconquered: A Story of the KKK (1920), Ten Minutes to Live (1932), Ten Nights in a Bar Room (1926), Two Knights of Vaudeville (1918), Veiled Aristocrats (1932), Verdict Not Guilty (1934), We Work Again (1937), Within Our Gates (1920)
Musical scores (for silent films) by Paul D. Miller (aka DJ Spooky), Max Roach, Samuel D. Waymon, the Mont Alto Motion Picture Orchestra, Donald Sosin, Makia Matsumura, Alloy Orchestra, Rob Gal, Andrew Simpson
Bonus Features: Optional English Subtitles, 80-page booklet with essays and detailed film notes, Interviews with series curators Charles Musser and Jacqueline Stewart, Documentary on the restoration of the films, Documentary on the restoration efforts of the Library of Congress, Archival interview with actors Ethel and Lucia Moses (1978), Tyler Texas Black Film Collection promo film (with Ossie Davis, 1985) and more!
Blu-Ray 1 contens:
- "Two Knights of Vaudeville" (1915)
- "Mercy, the Mummy Mumbled" (1918)
- "A Reckless Rover" (1918)
- "Within Our Gates" (1920)
- "The Symbol of the Unconquered: A Story of the Ku Klux Klan" (1920)
- "By Right of Birth" (1921)
- "Body and Soul" (1921)
- "Screen Snapshots" (1920) – Taken from newsreel footage of Oscar Micheaux on the set of "The Brute."
Bonus:
- "An Introduction" provides an overview of disc content, featuring film historians Jacqueline Najuma Stewart and Charles Musser.
- "The Films of Oscar Micheaux" returns to Musser, who discusses the work of the pioneer moviemaker.


DISC INFO:

Disc Title: PioneersOfAfricanAmericanCinema.15.BR1
Disc Size: 48 024 442 087 bytes
Protection: AACS
BD-Java: No
BDInfo: 0.5.8

PLAYLIST REPORT:

Name: 01006.MPLS
Length: 4:30:47.310 (h:m:s.ms)
Size: 45 307 619 328 bytes
Total Bitrate: 22,31 Mbps

VIDEO:

Codec Bitrate Description
––- –––- –––––-
MPEG-4 AVC Video 21016 kbps 1080p / 23,976 fps / 16:9 / High Profile 4.1

AUDIO:

Codec Language Bitrate Description
––- –––– –––- –––––-
Dolby Digital Audio English 256 kbps 2.0 / 48 kHz / 256 kbps

FILES:

Name Time In Length Size Total Bitrate
–– –––- ––– –– ––––––-
00006.M2TS 0:00:00.000 0:00:07.333 11 157 504 12 172
00002.M2TS 0:00:07.333 0:10:54.541 1 738 248 192 21 245
00003.M2TS 0:11:01.875 0:13:27.958 2 145 687 552 21 246
00004.M2TS 0:24:29.833 0:14:05.875 2 576 885 760 24 371
00008.M2TS 0:38:35.708 1:13:39.958 13 468 839 936 24 378
00009.M2TS 1:52:15.666 0:59:13.666 9 438 474 240 21 248
00010.M2TS 2:51:29.333 0:04:38.194 847 122 432 24 361
00011.M2TS 2:56:07.527 1:32:59.574 14 817 380 352 21 245
00012.M2TS 4:29:07.101 0:01:38.208 260 542 464 21 224
00015.M2TS 4:30:45.310 0:00:02.000 3 280 896 13 124

–––––––––––––––––––––––––––––––––––––––––––––––––––––––-


All thanks to the original uploader