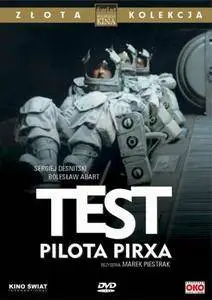 Pilot Pirx's Inquest (1979)
DVDRip | MKV | 720x528 | x264 @ 1614 Kbps | 94 min | 1,37 Gb
Audio: Polski AC3 5.1 @ 448 Kbps | Subs (srt+embedded): English, Español
Genre: Sci-fi, Drama
Director:
Marek Piestrak
Writers:
Stanislaw Lem (short story), Marek Piestrak (adaptation)
Stars:
Sergei Desnitsky, Boleslaw Abart, Vladimir Ivashov
The movie is about "finite nonlinears," robots that closely resemble human beings but are even more perfect than humans. They are intended to eventually replace human beings in space flights. Somewhat apprehensive about their usefullness, the United Nations sets up a space flight to determine their reactions to the human beings who also make up the crew. Pirx is selected as a commander of the flight, although the identity of the robots is not revealed to him…
Stanislaw Lem is one of my favorite authors. Every book of his is both very deep and philosophical and so funny that I laugh to tears. And "The Inquest", the short story that the film's based upon, is one of his most wonderful pieces. So even though I'm not a fan of old sci-fi movies which usually seem boring and dull, I decided to watch this one.

Luckily, it turned out to be an exception. The action was as swift and exciting as in modern films, and the plot was great. It was altered, of course - you can't turn a short story into a 1,5-hour film without expanding it. But the alterations fitted in perfectly. Most of Lem's hilarious humor remained in the movie, and some more was added (such as "Humans generally are less reliable. - Poor… poor humans").

The acting was very good. I think Alexandr Kaidanovsky was the best - but perhaps that's because his part was the most difficult one. (I can't explain why, because I would spoil one of the main plot intrigues!) And Sergei Desnitsky made an excellent performance of the clumsy, awkward but brave pilot Pirx.

To put it short: if you want first-class special effects and modern actors, skip it. If you want a both funny and thrilling sci-fi based on Lem's masterpiece, with various psychological and philosophical problems raised and discussed, "The Inquest of Pilot Pirx" is just for you.
(click to enlarge)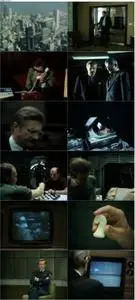 More in My Blog