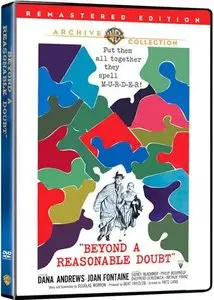 Beyond a Reasonable Doubt (1956) [Remastered]
DVD5 | VIDEO_TS | NTSC 16:9 | 01:20:23 | 4,13 Gb
Audio: English AC3 2.0 @ 192 Kbps | Subs: none
Genre: Crime, Film-Noir | Warner Archive
Director:
Fritz Lang
Stars:
Dana Andrews, Joan Fontaine, Sidney Blackmer
Crusading publisher Austin Spenser (Sidney Blackmer) wants to prove a point about the insufficiency of circumstantial evidence. Spencer talks his prospective son-in-law Tom Garrett (Dana Andrews) into participating in a hoax, the better to expose the alleged ineptitude of conviction-happy DA (Philip Bourneuf). Tom will plant clues indicating that he is the murderer of a nightclub dancer, then stand trial for murder; just as the jury reaches its inevitable guilty verdict, Spencer will step forth to reveal the set-up and humiliate the DA. Somewhat surprisingly, Tom eagerly agrees to this subterfuge. Unfortunately, an unforeseen event renders their perfectly formed scheme useless. Beyond a Reasonable Doubt was the last American film of director Fritz Lang.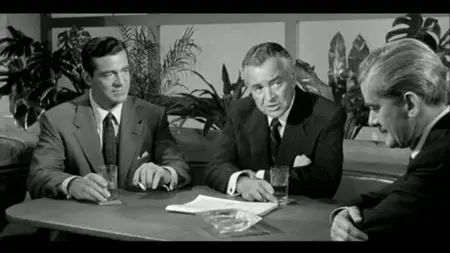 For his final Hollywood film, Fritz Lang decided to expose the pitfalls of capital punishment for circumstantial evidence. For this film, Lang has kept it simple; with the entire movie focusing on the central premise and not a lot of anything else going on. Filmmakers can sometimes saturate a film with lots of sub-plots, and it can have a huge detrimental effect on what the film is trying to achieve. By keeping it simple, Lang gives himself time to fully explore the implications of his plot and the film is made more compelling because of this. The story follows Austin Spencer; a person of stature that is continually campaigning against circumstantial evidence being used as a means to send someone to the electric chair. His efforts are unsuccessful, until he has the bright idea to have a man sent to death row on circumstantial evidence, only to be pardoned at the last minute by means of the evidence to prove his innocence being brought to light. Enter Tom Garrett; Austin's son in law to be, and the man that agrees to frame himself for murder…




This is perhaps Lang's best assault on the American justice system; he has created a story that is interesting and very plausible and it works a treat in that it gets you thinking about the fact that with this kind of law; someone really could be killed for something they didn't do. Of course, the chances of someone risking being put to death to expose this are unlikely, but then again; it's only a movie, so you can expect to suspend your belief a little for a point to be made. Beyond a Reasonable Doubt also features one of the most finely tuned plot twists that I've seen in a movie. Lang shows us everything about the plot; from the first ideas, to the setting up, all the way to the trial and because of this; the final twist comes as a complete surprise. It's been done and done a million times since this film, but despite this; Beyond a Reasonable Doubt still has the power to shock the viewer.




Beyond a Reasonable Doubt is one of the highlights of Lang's illustrious filmography. It has an unfairly low IMDb rating, and I hope that you will not use that as a means of deciding whether or not to see this film. It is efficient story telling at it's best and this is one of the highlights of the film noir era.


IMDB Reviewer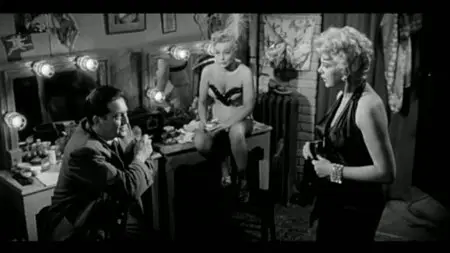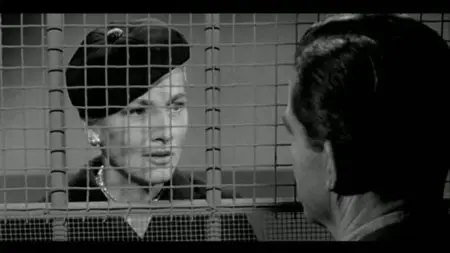 Special Features: Trailer
All Credits goes to Original uploader.