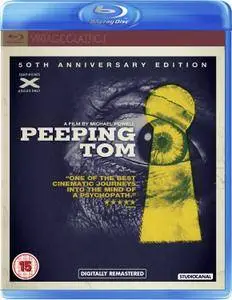 Peeping Tom (1960)
BRRip 720p | MKV | 1280 x 720 | x264 @ 2048 Kbps | 1h 41mn | 1,79 Gb
Audio: English AC3 2.0 @ 160 Kbps + Commentary track | Subs: English (embedded)
Genre: Horror, Thriller | Director: Michael Powell
A frank exploration of voyeurism and violence, Michael Powell's extraordinary film is the story of a psychopathic cameraman - his childhood traumas, sexual crises, and murderous revenge as an adult. Reviled by critics upon its initial release for its deeply unsettling subject matter, the film has since been hailed as a masterpiece.
… Peeping Tom is one of the few films that still has the power to shock all these years on. Psycho, released roughly at the same time, is still a great film but its shock value has been diminished by years of repeat viewings and increasing permissiveness in the cinema. But Peeping Tom is an altogether more disturbing piece of work. Boehm is excellent as the killer whose entire outlook has been skewed by his father's experiments. Also impressive is Anna Massey as the killer's fragile and unsuspecting fiancée. Powell directs the film brilliantly, using bold and dazzling colours to disguise the horrific atrocities that punctuate his film. It is understandable that the film was met with revulsion and rejection at that time, but in retrospect it is a film of real importance and power. In a 21st century world bombarded and desensitised by harrowing images on the news and in the movies, the theme of losing one's grasp on what is and isn't morally acceptable is more pertinent than ever. This is not easy viewing, but it IS essential viewing.
(Enlargeable)

Note:
- Audio commentary by Professor of Film and Media History at Birbeck College, Ian Christie