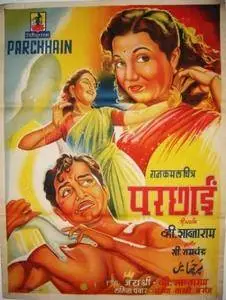 Parchhaiyan (1952)
A Film by Rajaram Vankudre Shantaram
DVDRip | MKV | 2h 31min | 720x490 | AVC @ 1800Kbps | AC-3 @ 192Kbps
Lang: Hindi | Subs: None | 2.12 GB
Genre: Drama | Family
IMDB Info
IMDB Rating:
5.9/10
Directed by:
Rajaram Vankudre Shantaram
Starring:
Rajaram Vankudre Shantaram, Jayashree, Sandhya
Storyline:
Deepak is a frustrated boat man who was about to suicide when he was pulled back by his shadow/Antaratma, which explains to him, the importance of life. While coming back he is hit by a bullet from Chhoti Rani, Saloni (Jayashree) who was on a hunting trip along with her friend Chunni, but by the time they reach him, Deepak loses his eyesight. Chhoti Rani takes Deepak to her haveli for treatment. Chhoti Rani lives in that haveli with Badi Rani (Lalita Pawar) who returns from Ram Tekri after undergoing eye treatment. Even Badi Rani allows Deepak to stay, so that he can undergo the treatment. Slowly, Chhoti Rani and Deepak grow close which the Badi Rani doesn't like. So she arranges Chhoti Rani's marriage with Chunni's brother Vinod who is equal in status and likes Chhoti Rani. Badi Rani then asks one of her servants, Kishori, who has a similar voice to that of the Chhoti Rani, to take Deepak to Ram Tekri for treatment. As Deepak goes for Ram Tekri, the Badi Rani forces Chhoti Rani to get engaged to Vinod. During the ceremony, Chhoti Rani collapses and is then battling for her life. This makes the Badi Rani feel guilty and she asks God for Choti Rani's survival. Then afterwards the Badi Rani dies and Chhoti Rani survives. In Ram Tekri, Kishori started liking Deepak. She presents herself as Choti Rani when Deepak regains his vision. Chhoti Rani leaves the haveli for Ram Tekri to meet Deepak but she is followed by Vinod who tried to rape her, but in the process both lose their life. On the other hand, Kishori's impersonation is caught by Deepak. Deepak then starts searching for Chhoti Rani he is unable to find her for many days, but finally he is guided to the spot where she died along with Vinod. Deepak converts that spot into a samadhi and lights a 'diya' there till his old age in remembrance of Chhoti Rani.
Screenshots: