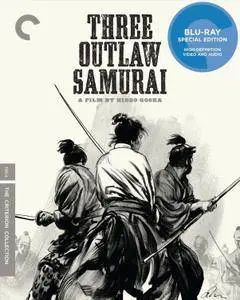 Three Outlaw Samurai (1964)
BDRip 720p | MKV | 1280 x 544 | x264 @ 4351 Kbps | 1h 33mn | 3,28 Gb
Audio: Japanese (日本語) AC3 1.0 @ 640 Kbps | Subtitles: English (embedded)
Genre: Action, Drama | Director: Hideo Gosha
This first feature by the legendary Hideo Gosha is among the most beloved chanbara (sword-fighting) films. An origin-story offshoot of a Japanese television phenomenon of the same name, Three Outlaw Samurai is a classic in its own right. A wandering, seen-it-all ronin (Tetsuro Tamba) becomes entangled in the dangerous business of two other samurai (Isamu Nagato and Mikijiro Hira), hired to execute a band of peasants who have kidnapped the daughter of a corrupt magistrate. With remarkable storytelling economy and thrilling action scenes, this is an expertly mounted tale of revenge and loyalty.
Excellent black and white cinematography, solid acting, well done action and a reasonably good story make this a satisfying film. The story of wandering samurai coming to the aid of impoverished farmers is not new and the characters are stock but this isn't a real problem if you are looking for something to sit back and enjoy easily. The direction is very assured and it's remarkable that this is a first directorial effort. The actors are appealing and the film never gets bogged down in long exposition or beauty shots. The comparison to a spaghetti western is apt.

The film seems like it was intended to start a series based on the three characters. Too bad that didn't happen.
(Enlargeable)