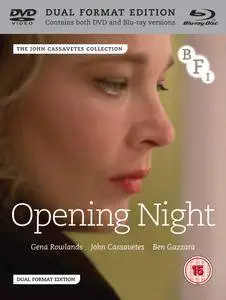 Opening Night (1977)
BDRip 720p | MKV | 1280 x 720 | x264 @ 2560 Kbps | 2h 24mn | 2,93 Gb
Audio: English AC3 2.0 @ 160 Kbps + Commentary track | Subtitles: English
Genre: Drama | Director: John Cassavetes
Actress Myrtle Gordon (Gena Rowlands) is a functioning alcoholic actress who is a few days from the opening night of her latest play, concerning a woman distraught about aging. One night a car kills one of Myrtle's fans who is chasing her limousine in an attempt to get the star's attention. Myrtle internalizes the accident and goes on a spiritual quest, but fails to finds the answers she is after. As opening night inches closer and closer, fragile Myrtle must find a way to make the show go on.
Beautiful film, pure Cassavetes style. Gena Rowland gives a stunning performance of a declining actress, dealing with success, aging, loneliness…and alcoholism. She tries to escape her own subconscious ghosts, embodied by the death spectre of a young girl. Acceptance of oneself, of human condition, though its overall difficulties, is the real purpose of the film. The parallel between the theatrical sequences and the film itself are puzzling: it's like if the stage became a way out for the Heroin. If all american movies could only be that top-quality, dealing with human relations on an adult level, not trying to infantilize and standardize feelings… One of the best dramas ever. 10/10.
(Enlargeable)

Audio Commentary
by Tom Charity, Mike Ferris and Bo Harwood