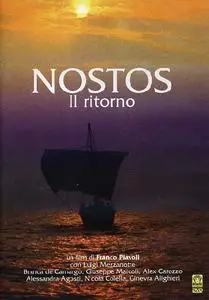 Nostos: The Return (1989)
WEB-Dl 1080p | AVI | 1920x1080 | x264 @ 3528 Kbps | 88 min | 2,33 Gb
Audio: a few line in Ελληνικά AAC 2.0 @ 253 Kbps | Subs: Not really needed
Genre: Fantasy, Drama
Director:
Franco Piavoli
Writer:
Franco Piavoli
Stars:
Luigi Mezzanotte, Branca de Camargo, Alex Carozzo
At the end of the war, Odysseus, the wandering hero, with his companions begins his sail back home to the Mediterranean. The conclusion of his adventure is delayed by many natural obstacles and he takes an internal journey of fleeting memories of his childhood, his parents, love for a beautiful girl, nostalgia for the past, regret for what he did, and the deep silence that envelops everything. He confronts the most terrible loneliness following a shipwreck in which all the comrades perish.
Although I doubted that ever again I will watch Odyssey on artistic scale comparable with Franco Rossi 1968 version, this another Italian version brings very pleasant surprise. And although before mentioned version is still considered the best ever, this one presents radically different approach. Its more inner Odyssey which tries to present only some of brief moments from Homer story with psychological dilemma of main character. Its not spectacle nor literal presentation of Homers work, and its certainly not one of the peplums. This is visual poetry and its highly recommended to every one who loves seventh art.Its sad its still not yet much known.
(click to enlarge)

More in My Blog