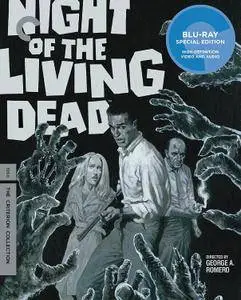 Night of the Living Dead (1968) + Extras
BDRip 1080p | MKV | 1920x1080 | x264 @ 14,0 Mbps | 1h 36mn | 10,46 Gb + 6,58 Gb
Audio: English DTS-HD MA 1.0 @ 1083 Kbps + 2 Commentary tracks | Subs: English
Genre: Horror | Director: George A. Romero
Shot outside Pittsburgh on a shoestring budget, by a band of filmmakers determined to make their mark, Night of the Living Dead, directed by horror master George A. Romero, is a great story of independent cinema: a midnight hit turned box-office smash that became one of the most influential films of all time. A deceptively simple tale of a group of strangers trapped in a farmhouse who find themselves fending off a horde of recently dead, flesh-eating ghouls, Romero's claustrophobic vision of a late-1960s America literally tearing itself apart rewrote the rules of the horror genre, combined gruesome gore with acute social commentary, and quietly broke ground by casting a black actor (Duane Jones) in its lead role. Stark, haunting, and more relevant than ever, Night of the Living Dead is back.
Night of the Living Dead was restored by the Museum of Modern Art and The Film Foundation. Funding provided by the George Lucas Family Foundation and the Celeste Bartos Fund for Film Preservation.
(Enlargeable)

Commentaries:
- Audio Commentary with the 'Zombie Masters' (Crew) George Romero, John Russo, Karl Hardman, and Marilyn Eastman
- Audio Commentary with the 'Zombie Party' (Cast) Bill Hinzman, Judith O'Dea, Keith Wayne, Kyra Schon, Russell Streiner, and Vince Survinski
Extras:
-
Night of Anubis
, a never-before-presented work-print edit of the film (85 min)
- Archival Interview with actor Duane Jones (21:56)
- TIFF 2012 event hosted by Colin Geddes (45:30)
-
"Zombies, My Love"
interview with Judith Ridley (10:42)
-
"Learning From Scratch"
interview with co-writer John A. Russo (11:58)
-
"Light in The Darkness: The Impact of Night of The Living Dead"
featurette (23:41)
-
"Limitations Into Virtues"
video essay by Tony Zhou and Taylor Ramos (11:57)
-
"Dead Relics"
dailies reel (18:04)
- Excerpts from the July 3, 1979 episode of NBC Tomorrow (18:20)
-
"Tones of Terror"
featurette (11:15)
- Newsreels from 1967 (2:48)
-
"Walking Like The Dead"
featurette (13:04)
- Introduction by sound engineer Gary Streiner (3:41)
- Introduction to Workprint by producer Russell Streiner (7:17)