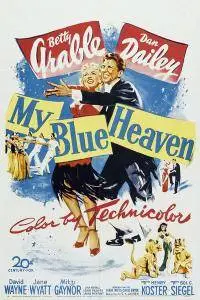 My Blue Heaven (1950)
English | DVDRip | MKV | 640x480 | AVC @ 1625 kb/s | 1.35 GB
Audio: AC-3 @ 192 kb/s 2 ch + commentary | 01:36:02 minutes | Subs: English, Spanish (embedded)
Genre: Drama, Musical
Radio star Kitty Moran, long married to partner Jack, finds she's pregnant, but miscarries. For a change, the couple turn their act into a series on early TV and try to adopt a baby, finally acquiring a girl in a somewhat back alley manner. Complications follow amid a series of musical numbers.