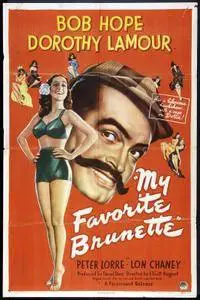 My Favorite Brunette (1947)
HDDVD-Rip 720p | MKV | 1280 x 720 | x264 @ 2560 Kbps | 1h 27mn | 1,68 Gb
Audio: English AC3 2.0 @ 192 Kbps | Subtitles: None
Genre: Comedy, Crime, Mystery | Director: Elliott Nugent
Baby photographer Ronnie Jackson, on death row in San Quentin, tells reporters how he got there: taking care of his private-eye neighbor's office, Ronnie is asked by the irresistible Baroness Montay to find the missing Baron. There follow confusing but sinister doings in a gloomy mansion and a private sanatorium, with every plot twist a parody of thriller cliches. What are the villains really after? Can Ronnie beat a framed murder rap?
Bob Hope is back! This time with Dorothy Lamour. This is the ninth film they both have been in and they were in five more together after this one, Bob Hope is the age of 43 or 44 in this film. Bob Hope plays a baby photographer who has always wanted to be a private eye…a detective. Next to his office is the McCloud Detective Agency. He begs for Sam McCloud (Alan Ladd in a cameo appearance) to give him a chance. But nothin' doin'. While McCloud trusts Bob to answer the phone while he steps outside to work on a case, who should walk in but Dorothy Lamour. The distraught woman needs help and thinks Bob is McCloud the detective. Well, what is Bob to do? Especially as lovely as Dorothy Lamour is. So here is Bob's chance to play detective. Here is where the fun begins. Bing Crosby also has a cameo appearance.
(Enlargeable)