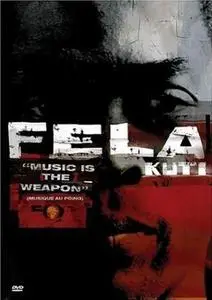 Music Is The Weapon (1982)
DVDRip | MKV | 720x478 | x264 @ 2484 Kbps | English FLAC 2.0 @ 724 Kbps | 53 min | 1,18 Gb
Genre: Documentary, Music
Directors:
Jean-Jacques Flori, Stéphane Tchalgadjieff (as Stephane Tchal-Gadjieff)
Stars:
Fela Kuti, Martin Luther King, Pope John Paul II
Music Is the Weapon may be short, but it's essential viewing for Fela fans. Filmed in 1982, the 53-minute documentary captures the late Nigerian musician/activist at his peak. (There are slight differences between the English and French versions, so it's best to watch both.) For the uninitiated, it's hard to explain–in mere words–how one man could so successfully mate the sexuality of James Brown with the righteous politics of Bob Marley and sinuous sounds of Miles Davis. Fela drew as much inspiration for his "Afro-beat" from Martin Luther King Jr. and Malcolm X as funk, reggae, and jazz. Music Is the Weapon features interviews with Fela and a few of his many wives, along with performances of "ITT," "Army Arrangement," and other anthems. A controversial figure throughout his life, Fela is described as both "superstar" and "man of the people." This short, but potent document ably explores that dichotomy.
This is a great documentary that serves as a brilliant introduction not only to the amazingly funky rhythm's of Fela's contribution to music i.e. Afro-Beat, but also to the ragged state of African Politics.

Fela was a brilliant musician but in addition to this he offered a vision of a new Nigeria that was free of totalitarian control and promoted an African identity free from western influence.

The doc. itself is well put together and features some exciting performances live from Fela's club which is worth the admission price alone.

Check it out.
(click to enlarge)

More in My Blog