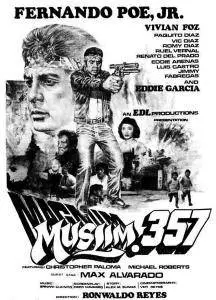 Muslim .357 (1986)
Tagalog | DVDRip | AVI | 640x480 | XviD @ 679 kb/s | 699 MB
Audio: MP3 @ 175 kb/s | 2 channels | 01:52:53 minutes | Subs: English (srt)
Genre: Action
Lt. Jamal (FPJ) is a Muslim undercover police officer, who is sent to Manila to help curb the runaway crime rate. Convinced of his (Jamal's) abilities as an undercover agent, he is summoned by Col. Castro to assist in unmasking the head of a big and vicious syndicate. In Manila, he is assigned as a bodyguard to a Police Major, who is also his contact, but two syndicate members beat him to the job. Eventually, however, he is able to eliminate them. This starts him off on his adventures with the syndicate. He's been discovered to be an undercover policeman. And his problems mountes because of the discovery. Col. Castro advices him to return to Mindanao. But the syndicate would rather have him dead. He has made a lot of damage to just let him go. Failing to silence him, they turned their ire on the two kids that helped him. They kill the two boys. The killing strike a sensitive chord in Jamal. The Muslim in him surfaces and vows revenge on all remaining members of the gang.