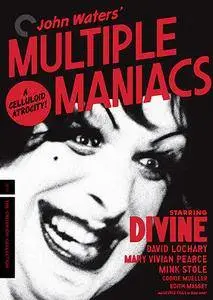 Multiple Maniacs (1970) [Criterion Collection, Spine #863]
DVD Video | NTSC 16:9 | 720x480 | 1hr 36mn | 7.14 Gb
English: Dolby AC3, 1 ch \ Dolby AC3, 1 ch
Subtitles: English
Genre: Comedy, Crime, Horror
IMDB Rating: 7.0/10 (1.656 votes)
Criterion.com
Director:
John Waters
Writers:
John Waters
Stars:
Divine, David Lochary, Mary Vivian Pearce
John Waters' gloriously grotesque second feature is replete with all manner of depravity, from robbery to murder to one of cinema's most memorably blasphemous moments. Made on a shoestring budget in Waters' native Baltimore, with the filmmaker taking on nearly every technical task, this gleeful mockery of the peace-and-love ethos of its era features the Cavalcade of Perversion, a traveling show mounted by a troupe of misfits whose shocking proclivities are topped only by those of their leader: the glammer-than-glam, larger-than-life Divine, out for blood after discovering her lover's affair. Starring members of Waters' beloved regular cast, the Dreamlanders (including David Lochary, Mary Vivian Pearce, Mink Stole, Susan Lowe, Edith Massey, George Figgs, and Cookie Mueller), Multiple Maniacs is an anarchic masterwork from an artist who has doggedly tested the limits of good taste for decades.
Extras:
- Audio Commentary - in this new audio commentary, writer-director John Waters discusses in great detail why his films were never popular in the original grindhouse theaters, the influence foreign films had on their evolution, how Multiple Maniacs came to exist, the casting process and the lives and careers of many of the principal actors, the distribution history of the film, the 'controversial' material and how standards in the film business evolved during the years, some of the dramatic improvements that were made during the restoration of the film (with some very interesting comments about the audio quality in a key sequence), etc. The commentary was recorded in 2016 in New York.
- Interviews - presented here is a newly produced program featuring new interviews with cast member Mink Stole, Pat Moran, Vincent Peranio, Susan Lowe, and George Figgs. The interviews cover a wide range of topics, from the film's unusual conception to the shooting process to John Waters' working methods and unique personality. The interviews were conducted in Baltimore in 2016.
- The Stations of Filth - presented here is a brand new video essay by film scholar Gary Needham which focuses on the unorthodox style of Multiple Maniacs, John Waters' admirable obsession with kitsch and cinematic filth, and the proliferation of anti-art.
- Trailer - restored original trailer for Multiple Maniacs.


Title: MultipleManiacs.70.Cr.D9
Size: 7.14 Gb ( 7 491 616,00 KBytes ) - DVD-9
Enabled regions: 1, 2, 3, 4, 5, 6, 7, 8

VTS_01 :
Play Length: 00:00:00
Video: NTSC 16:9 (720x480) VBR, Auto Letterboxed

VTS_02 :
Play Length: 01:36:37
Video: NTSC 16:9 (720x480) VBR, Auto Letterboxed
Audio:
English (Dolby AC3, 1 ch)
English (Dolby AC3, 1 ch)
Subtitles:
English

VTS_03 :
Play Length: 00:00:20
Video: NTSC 16:9 (720x480) VBR, Auto Pan&Scan

VTS_04 :
Play Length: 00:32:24
Video: NTSC 16:9 (720x480) VBR, Auto Letterboxed
Audio:
English (Dolby AC3, 1 ch)

VTS_05 :
Play Length: 00:10:40
Video: NTSC 16:9 (720x480) VBR, Auto Letterboxed
Audio:
English (Dolby AC3, 1 ch)

VTS_06 :
Play Length: 00:01:32
Video: NTSC 16:9 (720x480) VBR, Auto Letterboxed
Audio:
English (Dolby AC3, 1 ch)

VTS_07 :
Play Length: 00:00:00
Video: NTSC 16:9 (720x480) VBR, Auto Letterboxed