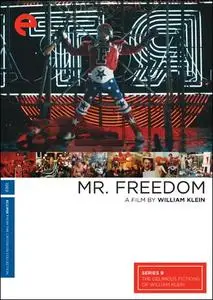 Mr. Freedom (1968)
DVDRip | MKV | 660x480 | x264 @ 2050 Kbps | English AAC 2.0 @ 146 Kbps | 91 min | 1,41 Gb
Genre: Comedy, Crime
Director:
William Klein
Writer:
William Klein
Stars:
John Abbey, Delphine Seyrig, Donald Pleasence
William Klein moved into more blatantly political territory with this hilarious, vicious Vietnam-era lampoon of imperialist American foreign policy. Mr. Freedom (John Abbey), a bellowing good-ol'-boy superhero decked out in copious football padding, jets to France to cut off a Commie invasion from Switzerland. A destructive, arrogant patriot in tight pants, Freedom joins forces with Marie Madeleine (a satirically sexy Delphine Seyrig) to combat lefty freethinkers, as well as the insidious evildoers Moujik Man and inflatable Red China Man, culminating in a star-spangled showdown of kitschy excess. Delightfully crass, Mr. Freedom is a trenchant, rib-tickling takedown of gaudy modern Americana.
An irreverent look at US nationalism, imperialism and "red panic". A little redundant, and outstays its welcome after a while - but an enjoyable flick, after all. Less humane than other of his movies, notably the wonderful documentary on Muhammad Ali. Great cameo roles by Philippe Noiret, and the remarkable Yves Montand as a corpse. America needs more William Kleins.
(click to enlarge)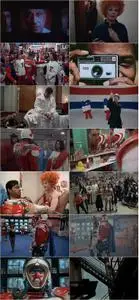 More in My Blog