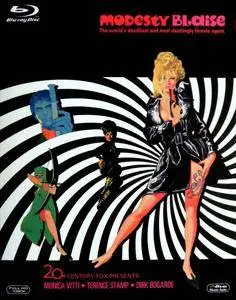 Modesty Blaise (1966)
BDRip 720p | MKV | 1280 x 720 | x264 @ 2560 Kbps | 1h 59mn | 2,31 Gb
Audio: English AC3 2.0 @ 192 Kbps | Subtitles: English (embedded)
Genre: Action, Comedy, Thriller | Director: Joseph Losey
Modesty Blaise, a secret agent whose hair color, hair style, and mod clothing change at a snap of her fingers is being used by the British government as a decoy in an effort to thwart a diamond heist. She is being set up by the feds but is wise to the plot and calls in sidekick Willie Garvin and a few other friends to outsmart them. Meanwhile, at his island hideaway, Gabriel, the diamond thief has his own plans for Blaise and Garvin.
A delicious phantasmagoria of feathers, frolics, fashion, false eyelashes, frivolity, fol-de-rol, foppish frothiness and all that was mod and mad in that giddy year, nineteen-sixty-six. Monica Vitti is nothing like the comic book character created by Peter O'Donnell and Jim Holdaway–the original stories have been reprinted and are worth checking out. In his memoirs Terence Stamp recalled that Vitti was so clumsy it was hard for her to get through even simple stunts. The film is in reality a paean to style and to the triumph of presentation over substance which was a lot of what Sixties fashions were about. Vitti's wigs pretty much steal the show–Dirk Bogarde, in blond toupee as evil mastermind Gabriel, and Rosella Falk as Mrs Fothergill (a sort of sadistic Emma Peel) clean up on what's left. The music is a lot of fun–indeed fun is the operative word here. Serious squares can keep their dull movie critic vibes out!
(Enlargeable)