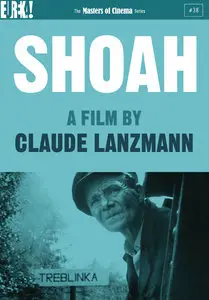 Shoah (1985)
4xDVD9 | ISO+MDS | PAL 4:3 | 541 mins | 7,66 Gb + 7,55 Gb + 7,21 Gb + 7,21 Gb
Audio: French AC3 2.0 @ 192 Kbps | Subtitles: English | Covers + DVD Scans
Genre: Documentary, History, War | Masters of Cinema #38
Director:
Claude Lanzmann
Writer:
Claude Lanzmann
Shoah is Claude Lanzmann's landmark documentary meditation on the Holocaust. Assembled from footage shot by the filmmaker during the 1970s and 1980s, it investigates the genocide at the level of experience: the geographical layout of the camps and the ghettos; the daily routines of imprisonment; the inexorable trauma of humiliation, punishment, extermination; and the fascinating insights of those who experienced these events first hand.
Absent from the film is any imagery shot at the time the Holocaust occurred. There is only Lanzmann and his crew, filming in private spaces and now-dormant zones of eradication to extract testimony from a series of survivors, witnesses, and oppressors alike. Through his relentless questioning (aided on occasion by hidden camera), Lanzmann is able to coax out material of unparalleled emotional truth that constitutes both precious oral history and withering indictment.
Shoah (the title is a common designation for the Holocaust, and a Hebrew word that can be translated as "Catastrophe" or "Annihilation") was the first of Lanzmann's films to analyse the effects of the death camps on individual lives and the world at large. It represents an aesthetic achievement in line with Alain Resnais's Night and Fog, combining inquiry, rage, and mourning to create a monumental portrait of shame and grief. Shoah locates within the present a direct line to the horrors of the past, and is widely regarded as one of the most powerful films of all time.
The landmark Holocaust documentary, "Shoah," is directed by Claude Lanzmann, a French journalist and filmmaker with a Ph.D. in Philosophy who was born in Paris in 1925. With a running time of nine-and-a-half hours (561 minutes), this oral history of the Holocaust as told by survivors is a monumental achievement. Because of its great length, the film was shown it two parts, each over four hours long, on different days.




Lanzmann was a student leader in the French Resistance during the war and worked for years as a writer and editor at "Les Temps Modernes," an intellectual quarterly founded by Jean-Paul Sartre. He calls "Shoah" a film of "corroboration: The Poles say the same thing as the Jews, and this is confirmed by the SS. The details are what matter."




Lanzmann had lost no immediate family members during the catastrophe, but he admits that the war was a dangerous adventure for him. His father was one of the heads of the French Resistance in the Auvergne, and Lanzmann became a Resistance organizer in his high school. His Jewish identity was quite dormant in those days, and he now laments the lack of a more explicit religious upbringing.




Lanzmann came from a Jewish family destroyed by migration and assimilation. He envies his French friends who were brought up in a double culture, Hebrew school as well as French education. As a child, he lived Judaism in fear, and a bit in shame. After the War, Lanzmann had little sense of his Jewish heritage, but he was stimulated by Jean-Paul Sartre's "Reflections on the Jewish Question," published in 1946.




Lanzmann made one documentary before "Shoah," "Why Israel" That film reflects his belief that Israel changed the world's perception of Jews, and that Jews have of themselves. The film began and ended with the Holocaust. Subsequently, the anti-Israel, pro-Palestinian sentiments then fashionable among many of Lanzmann's French leftist colleagues led him to think about making "Shoah." Lanzmann obsessively researched, traveled, interviewed and edited the film. His sense of urgency was compounded by the need to capture witnesses' testimony before it was too late.




Historians only know facts, and for Lanzmann, this was not enough. Lanzmann's father was not a practicing Jew. In the year before the war, the senior Lanzmann had progressively shed all signs of his ancestral heritage. Claude was raised without any religious training. Finally, Lanzmann's farther abandoned his mother in favor of a gentile woman. His family went into hiding during the war.




Lanzmann spoke through a translator for some of the interviews, which, for some inflates the film's scale. Lanzmann presents "Shoah" as art, and demands that it be considered as such. The film, which took 11 years to make, includes interviews with survivors in 14 countries, and a total of 350 hours of footage was shot.




Lanzmann uses a circular rather than a chronological way of organizing the data in the film. "Shoah" is beautifully paced, with a kind of musical feeling for repetition, meditation, and release.




The film does not contain a single frame of archival footage. The truths Lanzmann is after are not necessarily in the photographs captured by German cameras. In his interviews, the director believes that recording the truth is more important than being polite or avoiding outbursts. When it comes to the former Nazis, he quite bluntly lies to get their testimony; he also used hidden cameras to get one Nazis' testimony.




Lanzmann proves to be a superb interviewer, persistent, informed, patient, and sometimes not so patient, as well as a journalist with sharp ears and eyes. Gene Siskel of the Chicago Tribune regards "Shoah" as the greatest use of film in motion picture history, taking movies to their highest moral value. For him, the film is journalism of a high order.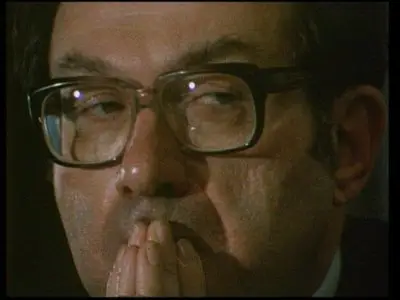 "
Making a history was not what I wanted to do. I wanted to construct something more powerful than that
" – Claude Lanzmann
"
I consider Shoah to be the greatest documentary about contemporary history ever made, bar none, and by far the greatest film I've ever seen about the Holocaust
" – Marcel Ophuls
"
I would never have imagined such a combination of beauty and horror… A sheer masterpiece
" – Simone de Beauvoir
All Credits goes to Original uploader.
No More Mirrors, Please.