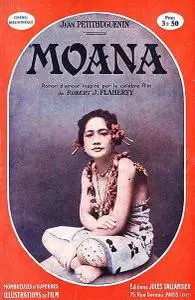 Moana (1926)
WEB-Dl 1080p | MKV | 1440x1080 | x264 @ 4072 Kbps | 92 min | 2,80 Gb
Ambient sounds MP3 @ 192 Kbps | English intertitles with Français subs (hardcoded)
Genre: Documentary
Directors
: Frances H. Flaherty, Robert J. Flaherty
Writers
: Frances H. Flaherty (screenplay), Frances H. Flaherty (title writer)
Stars
: Ta'avale, Fa'amgase, T'ugaita
Filmmaker Robert J. Flaherty presents a docufictional account of a family living in a Samoan village in the early 1920s.
Moana was filmed in Samoa in the villages of Safune district on the island of Savai'i. The name of the lead male character, moana means 'deep water' in the Samoan language. In making the film, Flaherty lived with his wife and collaborator Frances and their three daughters in Samoa for more than a year. Flaherty arrived in Samoa in April 1923 and stayed until December 1924, with the film being completed in December 1925.

The youngest of the children Robert and Frances Flaherty brought with them to Samoa was their then-3-year-old daughter Monica. In 1975, Monica Flaherty returned to Savai'i to create a soundtrack for her parents' hitherto-silent film, including recording ambient sounds of village life, dubbed Samoan dialogue and traditional singing. The resulting "Moana with Sound" was completed in 1980, with help from filmmakers Jean Renoir and Richard Leacock, and first shown publicly in Paris in 1981.
(click to enlarge)

More in My Blog