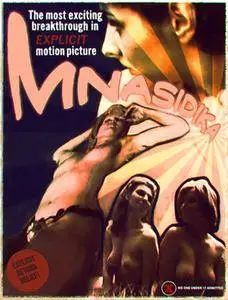 Mnasidika (1969)
DVDRip | mkv | x265 HEVC @ 964 Kbps, 23.976 FPS | 768 x 576 | 1h 10min | 527 MB
Audio: English MP3 1.0 @ 64 Kbps, 48.0 kHz | Subtitle: none
Genres: Comedy, Art-House
Shot during that weird period between the legalization of full-frontal nudity and the advent of actual hardcore, Mnasidika is the closest that Michael and Roberta Findlay ever got to a capital-a Art Film, replacing the gutter nihilism of their earlier works for pastoral readings of Pierre Louys and so much exposed vagina.
Michael Findlay opens the film sitting lonely on the beach, falling asleep and waking up in (what I assume is) Upstate New York doubling for Ancient Greece. Being that he's Michael Findlay, he proceeds to violently assault and beat a woman whose leg is trapped under a log. So far, so typical for a Findlay production. Cut to something less typical: forty minutes of lesbian softcore in a nearby field, all scored by wall-to-wall classical music and Pierre Louys poetry. The sound on the first two reels of Something Weird's print is pretty muffled, so good luck trying to make much of it out. With ten minutes left to go, we cut back to Michael's victim, who gets the attention of the rest of the girls and leads them to tie up and dismember him. End of film.
On the plus side, the film features some of Roberta's most accomplished photography, her usual vaseline smears seeming more deliberate and composed this time around. The lengthy middle section is largely composed of near-anatomical shots of vaginas in a field, so it's to her credit that at least they're interestingly and sometimes beautifully shot. Again, this is pre-hardcore, so you can get away with close-ups, but nothing else can go near them, leading to some interesting blocking and framing to show them off while still giving the actresses something to do. While I can't say I enjoyed it, I've got to respect them for making something so willfully uncommercial and intentionally artistic. Compared to
The Ultimate Degenerate
, their sleaze opus from the same year, this is almost high art. Almost.
Please Note: Playback of this H.265/HEVC encoded video file in VLC media player may cause problem (like Green Screen). A fresh install of the player or a new version can solve this problem. I strongly suggest you to download and install "K-Lite Codec Pack (Full or Mega version; totally free with WMP Classic)" on your system first and then try to play the file in VLC. Or, you can just install PotPlayer, and no codecs will be needed. I use this player for playing all sorts of media… from MP3 audio files to 4K UHD video files.

Mac users please get help from the Internet and YouTube.
MS18pp