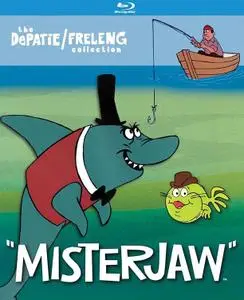 Misterjaw (1976) [Part 1]
BDRip | MKV | AVC, ~ 4.1 Mbps | 1920x1080 | 17 x ~ 6mn | 17 x ~ 190 MB
English: AC3, 2 ch, 448 kbps | Subtitles: None
Genre: Animation, Short, Comedy | TV Mini-Series

Cast:
Art Johnson, Bob Ogle, Arnold Stang, Paul Winchell
Crew:
Directed by David H. DePatie, Friz Freleng, Robert McKimson, Art Leonardi and Gerry Chiniquy
Country:
USA
Film Distributor:
Kino Lorber
When shark-mania struck America in the mid 1970s, it was only natural that a cartoon character would surface inspired by Steven Spielberg's Jaws. The result was Misterjaw™ which represents one of the final accomplishments of animation legend Robert McKimson. With his signature catch phrase "Gotcha!" and his sidekick Catfish (the incomparable Arnold Stang) the German-accented great white (voiced by Arte Johnson of TV's Laugh-In) swam for a remarkable 34 episodes, which revived some of the popular tropes of classic animated shorts, while providing clever send-ups of the decade's other pop-cultural phenomena.