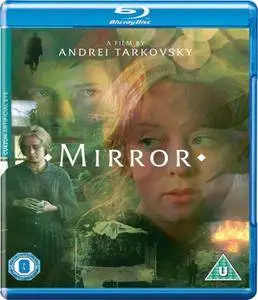 Director:
Andrey Tarkovskiy
Writers:
Aleksandr Misharin (as A. Misharin), Andrei Tarkovsky (as Andrey Tarkovskiy)
Stars:
Margarita Terekhova, Filipp Yankovskiy, Ignat Daniltsev
Tarkovsky mixes flash-backs, historical footage and original poetry to illustrate the reminiscences of a dying man about his childhood during World War II, adolescence, and a painful divorce in his family. The story interweaves reflections about Russian history and society.
Название:
Зеркало
Год выпуска:
1974
Жанр:
Драма, биография
Выпущено:
Россия, СССР
Режиссер:
Андрей Тарковский
В ролях:
Маргарита Терехова, Олег Янковский, Филипп Янковский, Игнат Данильцев, Николай Гринько, Алла Демидова, Юрий Назаров, Анатолий Солоницын
О фильме:
Герой картины мучительно боится потерять любовь и понимание близких людей: матери, любимой женщины, сына. И чувствует, что жизнь с каждым днем все дальше уводит их друг от друга. Пытаясь сохранить семью, он обращается памятью к самым сильным впечатлениям своего детства, стараясь в том, детском, мировосприятии найти опору и оправдание своим сегодняшним переживаниям.


DISC INFO:

Disc Title: Mirror.74.BR1
Disc Size: 31 221 834 323 bytes
Protection: AACS
BD-Java: No
BDInfo: 0.5.8

PLAYLIST REPORT:

Name: 00000.MPLS
Length: 1:47:00.997 (h:m:s.ms)
Size: 30 867 191 808 bytes
Total Bitrate: 38,46 Mbps

VIDEO:

Codec Bitrate Description
––- –––- –––––-
MPEG-4 AVC Video 34999 kbps 1080p / 23,976 fps / 16:9 / High Profile 4.1

AUDIO:

Codec Language Bitrate Description
––- –––– –––- –––––-
LPCM Audio English 1536 kbps 2.0 / 48 kHz / 1536 kbps / 16-bit

SUBTITLES:

Codec Language Bitrate Description
––- –––– –––- –––––-
Presentation Graphics English 19,816 kbps

FILES:

Name Time In Length Size Total Bitrate
–– –––- ––– –– ––––––-
00000.M2TS 0:00:00.000 1:47:00.997 30 867 191 808 38 458

––––––––––––––––––––––––––––––-


Contens Bonus Blu-Ray:
- Mary Wild Introduction (2:35)
- Selected scene commentary with Film Psychoanalyst Mary Wild (11:38 - Part 4 - The Mirror - Alienation in Language)
- Interview with screenwriter A. Misharin (32:32)
- Interview with Composer Eduard Artemev (21:10)
- Interview with Oleg Yankovskiy (9:55)
- Music Box Featurette "The Last Take" (3:24)