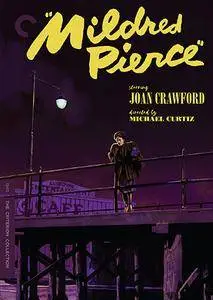 Mildred Pierce (1945) [Criterion Collection, Spine #860]
DVD Video, 2 x DVD9 | NTSC 4:3 | 720x480 | 1hr 50mn | 5.91 Gb + 7.10 Gb
English: Dolby AC3, 1 ch
Subtitles: English
Genre: Crime, Drama, Film-Noir
IMDB Rating: 8.0/10 (17.860 votes)
Criterion.com
Director:
Michael Curtiz
Writers:
Ranald MacDougall (screenplay), James M. Cain (novel)
Stars:
Joan Crawford, Jack Carson, Zachary Scott
When Mildred Pierce's wealthy husband leaves her for another woman, Mildred decides to raise her two daughters on her own. Despite Mildred's financial successes in the restaurant business, her oldest daughter, Veda, resents her mother for degrading their social status. In the midst of a police investigation after the death of her second husband, Mildred must evaluate her own freedom and her complicated relationship with her daughter.


Title: MildredPierce.45.Cr.D9.D1
Size: 5.91 Gb ( 6 195 512,00 KBytes ) - DVD-9
Enabled regions: 1, 2, 3, 4, 5, 6, 7, 8

VTS_01 :
Play Length: 00:00:00
Video: NTSC 4:3 (720x480) VBR

VTS_02 :
Play Length: 01:50:54
Video: NTSC 4:3 (720x480) VBR
Audio:
English (Dolby AC3, 1 ch)
Subtitles:
English

VTS_03 :
Play Length: 00:00:20
Video: NTSC 4:3 (720x480) VBR

VTS_04 :
Play Length: 00:02:19
Video: NTSC 4:3 (720x480) VBR
Audio:
English (Dolby AC3, 1 ch)

VTS_05 :
Play Length: 00:00:00
Video: NTSC 4:3 (720x480) VBR

–––––––––––––––––––––––––-

Title: MildredPierce.45.Cr.D9.D2
Size: 7.10 Gb ( 7 446 206,00 KBytes ) - DVD-9
Enabled regions: 1, 2, 3, 4, 5, 6, 7, 8

VTS_01 :
Play Length: 00:00:00
Video: NTSC 4:3 (720x480) VBR

VTS_02 :
Play Length: 00:22:58
Video: NTSC 16:9 (720x480) VBR, Auto Letterboxed
Audio:
English (Dolby AC3, 1 ch)

VTS_03 :
Play Length: 01:27:01
Video: NTSC 4:3 (720x480) VBR
Audio:
English (Dolby AC3, 2 ch)

VTS_04 :
Play Length: 00:15:01
Video: NTSC 4:3 (720x480) VBR
Audio:
English (Dolby AC3, 1 ch)

VTS_05 :
Play Length: 00:23:55
Video: NTSC 4:3 (720x480) VBR
Audio:
English (Dolby AC3, 2 ch)

VTS_06 :
Play Length: 00:10:06
Video: NTSC 4:3 (720x480) VBR
Audio:
English (Dolby AC3, 1 ch)

VTS_07 :
Play Length: 00:00:00
Video: NTSC 4:3 (720x480) VBR


Extras DVD1:
- Trailer
Extras DVD2:
- New conversation with critics Molly Haskell and Robert Polito
- Excerpt from a 1970 episode of The David Frost Show featuring actor Joan Crawford
- Joan Craw­ford: The Ultimate Movie Star, a 2002 feature-length documentary
- Q&A with actor Ann Blyth from 2006, presented by Marc Huestis and conducted by film historian Eddie Muller at the Castro Theatre in San Francisco
- Segment from a 1969 episode of the Today show featuring Mildred Pierce novelist James M. Cain