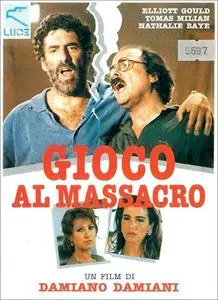 Massacre Play (1989)
DVDRip | MKV | 688x464 | XviD @ 1558 Kbps | English AC3 2.0 @ 192 Kbps | 106 min | 1,30 Gb
Genre: Thriller, Drama
Director
: Damiano Damiani
Writers
: Damiano Damiani (story), Damiano Damiani (screenplay)
Stars
: Tomas Milian, Elliott Gould, Nathalie Baye
The film examines the relationship between successful film director Theo Steiner, and his boyhood friend Clem Da Silva. Clem feels that Theo's success has come at the price of his own; that Theo has stolen some of his ideas.
Damiano Damiani remains one of the most difficult Italian directors to categorise. He is comfortable at the helm of commercial exploitation such as Amityville 2, but would be better remembered as the key political movie-maker of his generation, with a string of socially aware dramas that puts the better known cinema of Rosi and Gavras to shame.

Massacre Play (The Killing Game) is a rather unknown entry in the Damiani canon, but is well worth the investment of a couple of hours purely for the amazing performances of the two leads. Milian is quite magnificent and Elliott Gould shows just how good an actor he is:they play two friends, both film directors who have taken very different paths. Wordy, intelligent but never boring and with a few little surprises along the way.

Not in Damianis's top league but all in all, very worthwhile.
(click to enlarge)

More in My Blog