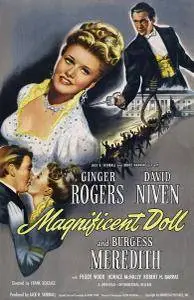 Magnificent Doll (1946)
English or Spanish (2 audio tracks) | DVDRip | MKV | 696x568 | AVC @ 2200 kb/s | 1.72 GB
Audio: MP3 @ 256 kb/s | 2 channels | 01:30:43 minutes | Subs: Spanish (embedded, srt)
Genre: Drama, History
Dolly Payne is adored by two leaders of the fledgling American government, James Madison and Aaron Burr. She plays each against the other, not only for romantic reasons, but also to influence the shaping of the young country. By manipulating Burr's affections, she helps Thomas Jefferson win the presidency, and eventually she becomes First Lady of the land herself.