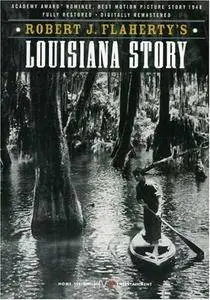 Louisiana Story (1948)
DVD9 | ISO+MDS | NTSC 4:3 | 01:21:21 | 7,70 Gb
Audio: English AC3 2.0 @ 192 Kbps | Subs: None
Genre: Adventure, Drama
Director:
Robert J. Flaherty (as Robert Flaherty)
Writers:
Frances H. Flaherty (original screenplay) (as Frances Flaherty), Robert J. Flaherty (original screenplay) (as Robert Flaherty)
Stars:
Joseph Boudreaux, Lionel Le Blanc, E. Bienvenu
A young Cajun boy named Alexander Napolean Ulysses Latour spends his time on a Louisiana bayou. There he plays, fishes and hunts, worrying only about the alligators which infest its waters. The boy's innocent routine changes forever when his father signs a lease agreement with an oil company which brings a derrick into their corner of the bayou.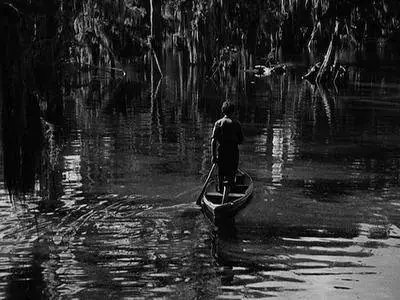 Pioneer independent documentarian Robert J. Flaherty made only a handful of films, but that was enough to secure his place as a pantheon director and one of movie-making's early artisans. His portraits of the classic beauties and braveries of native peoples living outside the corruption of civilization were romanticized and poetic, and today they strike us as curious mixtures of faithful realism and staged theatrics. He directed the most famous documentary of the 1920s, Nanook of the North, which even in its contrived representationalism possessed a cultural impact comparable to the first photograph of the full planet Earth from space. His reputation grew on such films as the 1926 Samoan island reverie Moana: A Romance of the Golden Age (the term "documentary" was coined to describe that film), a troubled collaboration with F.W. Murnau directing Tabu (1931), and a controversial depiction/melodramatization of brutal subsistence living off the Irish coast called Man of Aran (1934).




Flaherty considered himself an explorer first, with filmmaking ranking a distant second. A deeply felt allegiance to families and communities living in an intimate relationship with their habitat found lush expression in his films, which sought less to document granular reality than to evoke the essence of an idyllic primitivism that the 20th Century was sure to erase. His final film was 1948's Louisiana Story, and for many it's Flaherty's finest work. At the very least it's an exemplary study in black-and-white filmmaking, with some of cinema's most beautiful images.




This backwoods fairy tale is set in the bayou country of the Mississippi Delta swamps inhabited by French-speaking Acadians, or Cajuns. The hero is a thirteen-year-old boy who lives on the water as easily as on land, canoeing with rhapsodic grace through the subtropical marshes with his pet raccoon. Totally absorbed in fishing, hunting, and paddling the waterways, fearful of the mermaids that are said to swim beneath the waters and the werewolves who dance on moonless nights, he is Mother Nature's son.




When oil is discovered bubbling up from the swamp, the boy's father leases his land to a refinery, and soon a derrick is drilling 14,000 feet beneath the pastoral Eden. The boy is attracted to the immense structure and befriends the roughneck men who work, almost ballet-like, among the rhythmic machinery that's photographed as if it bridges Earth and Heaven. After the derrick goes "wildcat" in a dangerous blowout and thus must be capped, the boy entrusts his ever-present magic totem, a bag of salt, to ward off the bad luck and restore the derrick to operation, and likewise the promise of relative prosperity for his family.




The naive and sometimes cloying plot, scripted by Flaherty and "acted" by locals, is the lesser component of Louisiana Story. Dialogue is spare, Flaherty's style being to use the camera's eye the way a poet uses a pen. When the boy baits, captures, and skins a full-grown alligator, there's no question that what we're witnessing is authentic. However, when dialogue comes, the stilted delivery by these untrained non-actors reminds us that what we're watching is constructed upon artifice.




Instead, it's the virtuosic craftsmanship that makes Louisiana Story a genre classic. Cinematographer Richard Leacock, editor Helen van Dongen, and composer Virgil Thomson were among Flaherty's most talented collaborators. Leacock and van Dongen created visuals of lasting mastery. Thomson's rich score — something of an Aaron Copland take on Cajun themes and performed by the Philadelphia Orchestra under Eugene Ormandy — remains the only film score to win a Pulitzer Prize for music.




None of which excuses the fact that Louisiana Story is at times an almost religious ode to the harmonious wonders of industry and modern mechanization, with the postwar petroleum boom hallelujah'd as a majestic bringer of a humbling yet uplifting beneficence to benighted peoples. The poetic clarity of this public relations coup pleased Flaherty's sponsor, the Standard Oil Company, no end.




Offensive corporate propaganda aside, Louisiana Story won the Venice Film Festival's International Prize that year for its "lyrical beauty." The 1952 Sight and Sound Critics' Poll dubbed it one of the Top Ten Films of All Time, and in 1994 the Library of Congress dubbed Louisiana Story "culturally significant" and ranked it among the first films selected for preservation in the National Film Registry.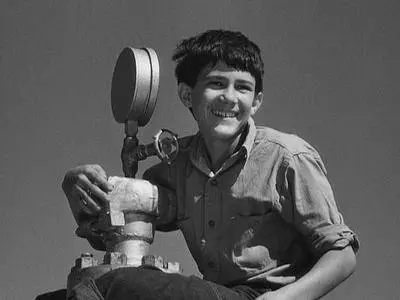 Special Features:
The extras start with a 1960 interview with Flaherty's collaborator, photographer, and No. 1 champion, his wife Frances Hubbard Flaherty. It's an excerpt from a comprehensive examination/appreciation titled Flaherty and Film, hosted by Robert Gardner, director of Harvard University's Peabody Museum of Archeology and Ethnography. In this 28-minute piece, Mrs. Flaherty speaks with eloquent incisiveness about her late husband's work. Sagely erudite and exuding an almost mystic reverence, she speaks of Flaherty's filmmaking as a near-spiritual experience, and smoothly recites Japanese haiku as fluidly as she compares Flaherty's method to Zen Buddhism.

In Study Film (5:11), she and Richard Leacock provide voice-over commentary as they revisit footage that went into the famed opening sequence of Louisiana Story.

Also here is The Land, a 22-minute excerpt from a 1940 short Flaherty directed for the U.S. Department of Agriculture. While focused primarily on the hardship and progress in harvesting the American landscape — with grim imagery reminiscent of The Grapes of Wrath — this film contains story elements that Flaherty later picked up when shaping the structure of Louisiana Story.

Another excerpt from a longer work is Hidden and Seeking (30:32), a 1971 documentary with Mrs. Flaherty reflecting on a shared lifetime of learning to "see" with the eyes of the camera.

Finally, there's Letters Home (15:26). "Ricky" Leacock was only 25 years old when Flaherty hired him to shoot Louisiana Story. He spent 14 months filming in the Louisiana bayou while his pregnant wife, Happy, remained in New York. In "Letters Home" we have a reading of selected correspondence between Leacock and Happy. Leacock's "voice" is engagingly narrated over footage and stills from the movie and behind the scenes.
All Credits goes to Original uploader.