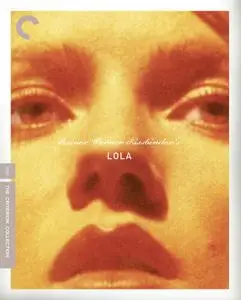 Lola (1981) [Criterion Collection, Spine #206]
Blu-Ray | BDMV | AVC, 1920x1080, ~33.6 Mbps | 1hr 55mn | 45,9 GB
German (Deutsch): LPCM Audio, 1 ch, 1152 kbps; English (Commentary): AC3, 1 ch, 192 kbps
Subtitles: English
Genre: Drama, Romance
IMDB Rating: 7.6/10 (4.590 votes)
Director:
Rainer Werner Fassbinder
Writers:
Pea Fröhlich, Peter Märthesheimer
Stars:
Barbara Sukowa, Armin Mueller-Stahl, Mario Adorf
Germany in the autumn of 1957: Lola (Barbara Sukowa), a seductive cabaret singer–prostitute, exults in her power as a tempter of men, but she wants more—money, property, and love. Pitting a corrupt building contractor (Mario Adorf) against the new straight-arrow building commissioner (Armin Mueller-Stahl), Lola launches an outrageous plan to elevate herself in a world where everything—and everyone—is for sale. Shot in childlike candy colors, Rainer Werner Fassbinder's Lola, an homage to Josef von Sternberg's classic The Blue Angel, is a wonderfully satirical tribute to capitalism.
Extras:
- New 4K digital restorations of Lola, with uncompressed monaural soundtrack
- Audio commentaries from 2003 featuring film scholar Christian Braad Thomsen
- Interview from 2003 with Barbara Sukowa
- Interviews from 2003 with cinematographer Xaver Schwarzenberger and screenwriter Peter Märthesheimer
- Conversation from 2003 between author and curator Laurence Kardish and film editor Juliane Lorenz
- Trailer

                                                                                                                Total   Video                                             
Title                                                           Codec   Length  Movie Size      Disc Size       Bitrate Bitrate Main Audio Track                          Secondary Audio Track
-----                                                           ------  ------- --------------  --------------  ------- ------- ------------------                        ---------------------
00001.MPLS                                                      AVC     1:55:12 32 758 517 760  49 323 582 103  37,91   33,62   LPCM 1.0 1152Kbps (48kHz/24-bit)          



DISC INFO:

Disc Title:     Lola.1981.Cr.Br
Disc Size:      49 323 582 103 bytes
Protection:     AACS
BD-Java:        Yes
BDInfo:         0.5.8

PLAYLIST REPORT:

Name:                   00001.MPLS
Length:                 1:55:12.530 (h:m:s.ms)
Size:                   32 758 517 760 bytes
Total Bitrate:          37,91 Mbps

VIDEO:

Codec                   Bitrate             Description     
-----                   -------             -----------     
MPEG-4 AVC Video        33620 kbps          1080p / 23,976 fps / 16:9 / High Profile 4.1

AUDIO:

Codec                           Language        Bitrate         Description     
-----                           --------        -------         -----------     
LPCM Audio                      German          1152 kbps       1.0 / 48 kHz / 1152 kbps / 24-bit
Dolby Digital Audio             English         192 kbps        1.0 / 48 kHz / 192 kbps

SUBTITLES:

Codec                           Language        Bitrate         Description     
-----                           --------        -------         -----------     
Presentation Graphics           English         55,245 kbps                     

FILES:

Name            Time In         Length          Size            Total Bitrate   
----            -------         ------          ----            -------------   
00274.M2TS      0:00:00.000     1:55:12.530     32 758 517 760  37 912          

CHAPTERS:

Number          Time In         Length          Avg Video Rate  Max 1-Sec Rate  Max 1-Sec Time  Max 5-Sec Rate  Max 5-Sec Time  Max 10Sec Rate  Max 10Sec Time  Avg Frame Size  Max Frame Size  Max Frame Time  
------          -------         ------          --------------  --------------  --------------  --------------  --------------  --------------  --------------  --------------  --------------  --------------  
1               0:00:00.000     0:03:40.970     33 451 kbps     48 549 kbps     00:00:23.398    38 500 kbps     00:00:07.173    37 064 kbps     00:00:10.260    174 366 bytes   640 646 bytes   00:00:00.000    
2               0:03:40.970     0:03:09.814     30 492 kbps     36 805 kbps     00:03:41.679    35 105 kbps     00:03:58.947    35 044 kbps     00:03:46.643    158 970 bytes   638 307 bytes   00:03:41.179    
3               0:06:50.785     0:04:13.753     33 501 kbps     37 387 kbps     00:09:32.738    36 609 kbps     00:10:58.115    36 520 kbps     00:10:42.767    174 660 bytes   233 967 bytes   00:08:46.943    
4               0:11:04.538     0:05:24.157     34 129 kbps     37 499 kbps     00:11:41.867    36 655 kbps     00:11:51.252    36 577 kbps     00:12:26.871    177 932 bytes   263 518 bytes   00:11:54.839    
5               0:16:28.696     0:06:56.666     35 255 kbps     37 413 kbps     00:16:39.039    36 600 kbps     00:20:59.216    36 512 kbps     00:20:59.216    183 804 bytes   230 010 bytes   00:16:39.873    
6               0:23:25.362     0:07:30.199     30 703 kbps     36 329 kbps     00:24:16.413    35 828 kbps     00:24:22.711    35 647 kbps     00:24:37.684    160 071 bytes   240 454 bytes   00:23:28.365    
7               0:30:55.562     0:05:00.258     33 482 kbps     38 284 kbps     00:34:57.678    36 627 kbps     00:31:40.732    36 450 kbps     00:31:40.815    174 558 bytes   625 716 bytes   00:34:58.679    
8               0:35:55.820     0:09:29.610     33 395 kbps     36 852 kbps     00:40:56.120    36 110 kbps     00:42:01.727    36 036 kbps     00:43:19.847    174 108 bytes   265 038 bytes   00:40:57.538    
9               0:45:25.431     0:09:05.962     34 433 kbps     37 964 kbps     00:50:39.953    36 675 kbps     00:50:23.687    36 615 kbps     00:50:30.944    179 515 bytes   291 672 bytes   00:53:31.708    
10              0:54:31.393     0:06:36.521     35 241 kbps     39 611 kbps     00:59:47.834    36 630 kbps     00:58:43.228    36 575 kbps     00:57:57.932    183 732 bytes   640 646 bytes   00:59:51.379    
11              1:01:07.914     0:07:54.098     34 817 kbps     37 454 kbps     01:04:34.704    36 450 kbps     01:01:13.503    36 361 kbps     01:01:13.127    181 520 bytes   272 290 bytes   01:06:07.254    
12              1:09:02.012     0:05:46.554     34 262 kbps     37 020 kbps     01:12:22.004    36 578 kbps     01:11:21.610    36 509 kbps     01:09:42.761    178 627 bytes   247 094 bytes   01:12:37.061    
13              1:14:48.567     0:03:00.930     32 062 kbps     36 640 kbps     01:17:37.277    35 223 kbps     01:17:31.480    35 116 kbps     01:17:37.277    167 155 bytes   273 868 bytes   01:17:49.498    
14              1:17:49.498     0:06:52.995     34 414 kbps     39 061 kbps     01:18:39.423    35 630 kbps     01:18:16.817    35 349 kbps     01:18:16.900    179 418 bytes   640 646 bytes   01:17:53.502    
15              1:24:42.494     0:06:22.131     34 318 kbps     37 332 kbps     01:29:42.001    36 592 kbps     01:30:00.937    36 519 kbps     01:30:12.824    178 921 bytes   252 473 bytes   01:25:09.437    
16              1:31:04.625     0:04:41.864     31 128 kbps     34 707 kbps     01:31:48.794    34 462 kbps     01:32:53.943    34 383 kbps     01:31:46.501    162 288 bytes   206 225 bytes   01:31:54.133    
17              1:35:46.490     0:02:12.173     25 035 kbps     33 946 kbps     01:35:46.490    27 842 kbps     01:37:09.657    27 187 kbps     01:36:31.368    130 520 bytes   220 070 bytes   01:37:16.038    
18              1:37:58.664     0:04:19.342     35 419 kbps     38 051 kbps     01:38:23.314    36 722 kbps     01:39:11.737    36 603 kbps     01:39:23.666    184 658 bytes   244 720 bytes   01:42:00.030    
19              1:42:18.006     0:04:38.653     31 786 kbps     36 889 kbps     01:43:31.455    36 402 kbps     01:43:31.413    35 391 kbps     01:43:29.286    165 716 bytes   255 681 bytes   01:46:16.703    
20              1:46:56.660     0:03:33.922     35 550 kbps     38 042 kbps     01:49:29.354    36 677 kbps     01:49:42.200    36 587 kbps     01:47:59.639    185 341 bytes   283 980 bytes   01:47:17.139    
21              1:50:30.582     0:04:41.948     35 658 kbps     57 847 kbps     01:55:07.358    41 640 kbps     01:55:03.354    39 184 kbps     01:54:58.349    185 958 bytes   640 646 bytes   01:55:08.109    

STREAM DIAGNOSTICS:

File            PID             Type            Codec           Language                Seconds                 Bitrate                 Bytes           Packets         
----            ---             ----            -----           --------                --------------          --------------          -------------   -----           
00274.M2TS      4113 (0x1011)   0x1B            AVC                                     6912,447                33 620                  29 049 563 302  157 975 050     
00274.M2TS      4352 (0x1100)   0x80            LPCM            deu (German)            6912,447                2 310                   1 996 340 108   11 060 056      
00274.M2TS      4353 (0x1101)   0x81            AC3             eng (English)           6912,447                192                     165 901 056     1 080 085       
00274.M2TS      4608 (0x1200)   0x90            PGS             eng (English)           6912,447                55                      47 735 730      270 520         


All thanks to the original uploader