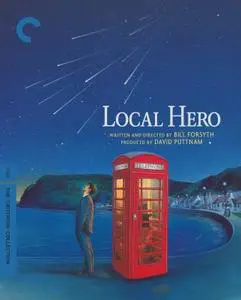 Local Hero (1983) + Extras
BRRip 720p | MKV | 1280 x 694 | x264 @ 1975 Kbps | 1h 51mn | 2,28 Gb + 3,84 Gb
Audio: English AC3 1.0 @ 160 Kbps + Commentary track | Subtitles: English
Genre: Comedy, Drama | Director: Bill Forsyth
Bill Forsyth put Scottish cinema on the map with this delightfully eccentric culture-clash comedy. Riffing on popular representations of Scottish life and folklore, Local Hero follows the Texas oil executive Mac (Peter Riegert), who is dispatched by his crackpot boss (Burt Lancaster) to a remote seaside village in Scotland with orders to buy out the town and develop the region for an oil refinery. But as business mixes with pleasure, Mac finds himself enchanted by both the picturesque community and its oddball denizens – and Texas starts to feel awfully far away. Packed with a near nonstop stream of droll one-liners and deadpan gags, this enchanting cult hit finds Forsyth surveying the idiosyncrasies of small-town life with the satirical verve of a latter-day Preston Sturges, arriving at a sly commentary on conservation, corporate greed, and the legacies we leave behind.
(Enlargeable)

Commentary
- this recent audio commentary features director Bill Forsyth and critic Mark Kermode. It was recorded in 2018.
– Bill Forsyth - in this exclusive new video interview, director Bill Forsyth discusses the production of Local Hero, its key themes and stylistic appearance, and its placement in his body of work. The interview is conducted by critic David Cairns (17 min).

– Shooting From the Heart - in this vintage documentary, cinematographer Chris Menges discusses his vision and preparation for Local Hero as well as his work with Bill Forsyth during the shooting of the film. There are additional comments by Alec McKenzie, Bill Forsyth, and Bill Paterson (Comfort and Joy), amongst others. The documentary was produced in 1985 (53 min).

– The South Bank Show - presented here is an archival episode of The South Bank Show in which Bill Forsyth and producer David Puttnam discuss the conception and production of Local Hero. The episode was broadcast on British TV in 1983 (53 min).

– The Making of Local Hero - in this archival program, produced for Scottish Television in 1983, actors Burt Lancaster and Peter Riegert and Bill Forsyth discuss their work on Local Hero. The program also contains a great deal of raw footage from the shooting of the film (53 min).

– I Thought Maybe I'd Get to Meet Alan Whicker - in this archival program, Bill Forsyth remembers how he began his career as a filmmaker/documentarian and the impact that the critical success of Local Hero had on it. The program was produced in 1983 (27 min).