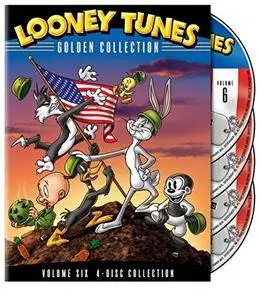 Looney Tunes: Golden Collection. Volume Six (1940-1959)
DVD Video, 4-disc DVD9 collection | 300 minutes | NTSC 4:3 | 720x480 | 26,6 Gb
English: Dolby AC3, 1 ch \ Dolby AC3, 2 ch
Subtitles: English
Genre: Animation, Comedy, Short
Amazon.com
We've saved the best for last… more of your favorite Looney Tunes…your wish is our command. The concluding release from the Golden Collection Series is a 4-disc set with 60 more of the most looneytic Looney Tunes ever unleashed. Plus, 15 bonus shorts to make this the biggest collection of Looney Tunes ever! Indeed, some have never before been on home video! Disc 1 – Looney Tunes All Stars, featuring best loved characters in classic shorts Disc 2 – Patriotic Pals Disc 3 – Bosko, Buddy & Merrie Melodies. Enjoy rare treasures from the original looney toons before they were Looney Tunes! Disc 4 - Most Requested "Assorted Nuts" Favorite shorts that defy classification!
Contents:Disc 1 - Looney Tunes All Stars
1. Hare Trigger
2. To Duck or Not to Duck
3. Birth of a Notion
4. My Little Duckaroo
5. Crowing Pains
6. Raw! Raw! Rooster!
7. Heaven Scent
8. My Favorite Duck
9. Jumpin' Jupiter
10. Satan's Waitin'
11. Hook Line and Stinker
12. Bear Feat
13. Dog Gone South
14. A Ham in a Role
15. Often an Orphan
Disc 2 - Patriotic Pals
16. Herr Meets Hare
17. Russian Rhapsody
18. Daffy the Commando
19. Bosko the Doughboy
20. Rookie Revue
21. The Draft Horse
22. Wacky Blackout
23. The Ducktators
24. The Weakly Reporter
25. Fifth Column Mouse
26. Meet John Doughboy
27. Hollywood Canine Canteen
28. By Word of Mouse
29. Heir Conditioned
30. Yankee Dood It
Disc 3 - Bosko, Buddy and Merrie Melodies
31. Congo Jazz
32. Smile Dam Ya, Smile!
33. The Booze Hangs High
34. One More Time
35. Bosko's Picture Show
36. You Don't Know What You're Doin'!
37. We're in the Money!
38. Ride 'em Bosko
39. Shuffle Off to Buffalo
40. Bosko in Person
41. The Dish Ran Away with the Spoon
42. Buddie's Day Out
43. Buddie's Beer Garden
44. Buddie's Circus
45. A Cartoonist's Nightmare
Disc 4 - Most Requested Assorted Nuts and One-Shots
46. Horton Hatches the Egg
47. Lights Fantastic
48. Fresh Airedale
49. Chow Hound
50. The Oily American
51. It's Hummer Time
52. Rocket Bye Baby
53. Goo Goo Goliath
54. Wild Wife
55. Much Ado About Nutting
56. The Hole idea
57. Now Hear This
58. Martian Through Georgia
59. Page Miss Glory
60. Norman Normal


Title: LnTns.GC.D9.S6D1
Size: 6.89 Gb ( 7 220 212,00 KBytes ) - DVD-9
Enabled regions: 1, 2, 3, 4, 5, 6, 7, 8

VTS_01 :
Play Length: 01:44:41+{00:07:54}+{00:06:38}+{00:07:02}+{00:06:57}+{00:06:48}+{00:06:48}+{00:06:50}+{00:07:37}+{00:07:00}+{00:07:04}+{00:05:55}+{00:06:53}+{00:06:59}+{00:06:48}+{00:07:32}+{00:22:32}+{00:07:54}+{00:07:02}+{00:07:37}+00:28:07+{00:06:48}+{00:07:00}+{00:06:58}+{00:07:21}+00:48:53+{00:24:26}+{00:24:27}+00:29:35+{00:08:09}+{00:07:07}+{00:06:58}+{00:07:21}+00:05:09+{00:02:10}+{00:01:57}+{00:01:03}
Video: NTSC 4:3 (720x480) VBR
Audio:
English (Dolby AC3, 1 ch)
English (Dolby AC3, 2 ch)
Subtitles:
English

VTS_02 :
Play Length: 00:00:12+00:00:12+00:00:21
Video: NTSC 4:3 (720x480) VBR
Audio:
English (Dolby AC3, 1 ch)
Subtitles:
English

VTS_03 :
Play Length: 00:00:16
Video: NTSC 16:9 (720x480) VBR, Auto Letterboxed
Audio:
English (Dolby AC3, 1 ch)
Subtitles:
English

VTS_04 :
Play Length: 00:00:30+00:01:17
Video: NTSC 4:3 (720x480) VBR
Audio:
English (Dolby AC3, 1 ch)
Subtitles:
English

VTS_05 :
Play Length: 00:01:09
Video: NTSC 4:3 (720x480) VBR
Audio:
English (Dolby AC3, 6 ch)
Subtitles:
Not specified

–––––––––––––––––––––––––––––––––––-

Title: LnTns.GC.D9.S6D2
Size: 6.49 Gb ( 6 808 068,00 KBytes ) - DVD-9
Enabled regions: 1, 2, 3, 4, 5, 6, 7, 8

VTS_01 :
Play Length: 01:51:57+{00:07:16}+{00:07:03}+{00:07:24}+{00:06:58}+{00:07:41}+{00:07:38}+{00:07:51}+{00:07:42}+{00:06:43}+{00:07:30}+{00:07:00}+{00:07:44}+{00:07:58}+{00:07:24}+{00:07:47}+{00:21:57}+{00:07:16}+{00:07:03}+{00:07:38}+{00:07:30}+{00:07:47}+00:43:44+{00:09:18}+{00:09:37}+{00:07:53}+{00:08:31}+{00:08:25}+00:22:02+{00:07:13}+{00:07:14}+{00:07:36}
Video: NTSC 4:3 (720x480) VBR
Audio:
English (Dolby AC3, 1 ch)
English (Dolby AC3, 2 ch)
Subtitles:
English

VTS_02 :
Play Length: 00:00:12+00:00:12+00:00:21
Video: NTSC 4:3 (720x480) VBR
Audio:
English (Dolby AC3, 1 ch)
Subtitles:
English

VTS_03 :
Play Length: 00:00:16
Video: NTSC 16:9 (720x480) VBR, Auto Letterboxed
Audio:
English (Dolby AC3, 1 ch)
Subtitles:
English

VTS_04 :
Play Length: 00:00:30+00:01:17
Video: NTSC 4:3 (720x480) VBR
Audio:
English (Dolby AC3, 1 ch)
Subtitles:
English

–––––––––––––––––––––––––––––––––––-

Title: LnTns.GC.D9.S6D3
Size: 5.96 Gb ( 6 250 496,00 KBytes ) - DVD-9
Enabled regions: 1, 2, 3, 4, 5, 6, 7, 8

VTS_01 :
Play Length: 01:45:02+{00:06:20}+{00:06:58}+{00:06:08}+{00:07:01}+{00:07:02}+{00:06:53}+{00:06:45}+{00:07:22}+{00:06:49}+{00:07:31}+{00:07:29}+{00:07:30}+{00:07:14}+{00:06:32}+{00:07:32}+{00:14:21}+{00:06:49}+{00:07:32}+00:28:41+{00:03:31}+{00:06:02}+{00:01:10}+{00:17:57}+{00:17:57}+00:28:47+{00:06:50}+{00:07:00}+{00:07:18}+{00:07:40}
Video: NTSC 4:3 (720x480) VBR
Audio:
English (Dolby AC3, 1 ch)
English (Dolby AC3, 2 ch)
Subtitles:
English

VTS_02 :
Play Length: 00:00:12+00:00:12+00:00:21
Video: NTSC 4:3 (720x480) VBR
Audio:
English (Dolby AC3, 1 ch)
Subtitles:
English

VTS_03 :
Play Length: 00:00:16
Video: NTSC 16:9 (720x480) VBR, Auto Letterboxed
Audio:
English (Dolby AC3, 1 ch)
Subtitles:
English

VTS_04 :
Play Length: 00:00:30+00:01:17
Video: NTSC 4:3 (720x480) VBR
Audio:
English (Dolby AC3, 1 ch)
Subtitles:
English

–––––––––––––––––––––––––––––––––––-

Title: LnTns.GC.D9.S6D4
Size: 7.27 Gb ( 7 617 954,00 KBytes ) - DVD-9
Enabled regions: 1, 2, 3, 4, 5, 6, 7, 8

VTS_01 :
Play Length: 01:45:37+{00:09:48}+{00:06:28}+{00:07:10}+{00:06:55}+{00:06:53}+{00:07:04}+{00:07:08}+{00:06:58}+{00:06:41}+{00:06:50}+{00:06:51}+{00:06:35}+{00:06:33}+{00:07:43}+{00:06:04}+{00:14:00}+{00:07:10}+{00:06:51}+00:26:31+{00:06:51}+{00:06:33}+{00:07:00}+{00:06:08}+01:09:27+00:25:53+{00:06:55}+{00:07:00}+{00:06:08}+{00:05:50}
Video: NTSC 4:3 (720x480) VBR
Audio:
English (Dolby AC3, 1 ch)
English (Dolby AC3, 2 ch)
Subtitles:
English

VTS_02 :
Play Length: 00:00:12+00:00:12+00:00:21
Video: NTSC 4:3 (720x480) VBR
Audio:
English (Dolby AC3, 1 ch)
Subtitles:
English

VTS_03 :
Play Length: 00:00:16
Video: NTSC 16:9 (720x480) VBR, Auto Letterboxed
Audio:
English (Dolby AC3, 1 ch)
Subtitles:
English

VTS_04 :
Play Length: 00:00:30+00:01:17
Video: NTSC 4:3 (720x480) VBR
Audio:
English (Dolby AC3, 1 ch)
Subtitles:
English


Thanks to original uploader