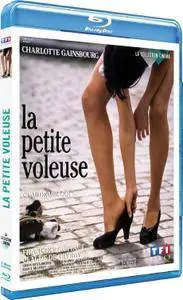 The Little Thief (1988)
BDRip 1080p | MKV | 1792 x 1080 | HEVC @ 10,4 Mbps | 1h 48mn | 9,47 Gb
Audio: Français DTS-HD MA 2.0 @ 2048 Kbps | Subtitles: English, T/S Chinese (中文)
Genre: Crime, Drama, Romance | Director: Claude Miller
In a small town in post-World-War-II France, an unhappy sixteen-year-old (Janine Castang) tries to escape her dreary situation by any means at her disposal. Three successive friends (Michel Davenne, a married lover; Raoul, a fellow thief; Mauricette Dargelos, a photographer and fellow prisoner) help her learn from her mistakes.
A nice little movie about Janine, a young girl, a compulsive thief, in post-war France, trying to put some kind of life together. Kicked out of her village for theft she goes to the big city where she takes employment as a maid and begins an affair with a married man. On meeting Raoul, a fellow thief, she embarks on a secondary love affair that ultimately leads to incarceration in reform school. Compelling performances by Charlotte Gainsbourg as Janine and the talented, sadly missed Simon de la Brosse as Raoul. This was Truffaut's last sortie into writing before his death and the charm is totally evident. A sentimental journey through a troubled young woman's life, this is a wonderfully detailed story that lingers.
(Enlargeable)