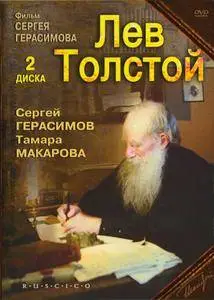 Lev Tolstoy / Leo Tolstoi / Лев Толстой (1984)
DVD Video, 2 x DVD9 | 1hr 17mn + 1hr 22mn | PAL 4:3 | 720x576 | 5.91 GB + 5.98 GB
Russian: Dolby AC3, 6 ch \ Dolby AC3, 1 ch \ Dolby AC3, 1 ch
Subtitles: English, Russian
Genre: Biography, Drama
IMDB Rating: 7.3/10 (64 votes)
Director:
Sergey Gerasimov
Writer:
Sergey Gerasimov
Stars:
Sergey Gerasimov, Tamara Makarova, Borivoj Navrátil
Country:
Russia (Россия)
Edition:
Ruscico
We shall meet Lev Tolstoy in the final years of his life at Yasnaya Polyana. We shall see him surrounded by his family, friends, acquaintances and absolute strangers who were coming to the great man and artist from all over the world. We shall hear "the voice of his thoughts". In his sleepless nights, we shall follow his memory of the happy youthful years and the crucial, hard ones. We shall witness Tolstoy's tragic departure from Yasnaya Polyana and his death at an obscure little station of Astapovo.
The film consists of two parts: "Insomnia" and "Departure".
Extras:
- Materials about L.N. Tolstoy: video, newsreels, textual material, L.N. Tolstoy's speech
- Interview with A. Kushlyansky, director of film production
- Filmographies
- Photo album "At Yasnaya Polyana"


Title: LevTolstoy.84.D9.D1
Size: 5.91 Gb ( 6 194 176,00 KBytes ) - DVD-9
Enabled regions: 1, 2, 3, 4, 5, 6

VTS_01 :
Play Length: 00:00:24
Video: PAL 4:3 (720x576) VBR

VTS_02 :
Play Length: 00:00:21
Video: PAL 4:3 (720x576) VBR
Audio:
Russian (Dolby AC3, 6 ch)

VTS_03 :
Play Length: 00:00:29
Video: PAL 4:3 (720x576) VBR
Audio:
English (Dolby AC3, 2 ch)

VTS_04 :
Play Length: 01:17:50
Video: PAL 4:3 (720x576) VBR
Audio:
Russian (Dolby AC3, 6 ch)
Russian (Dolby AC3, 1 ch)
Russian (Dolby AC3, 1 ch)
Subtitles:
Russian
English

VTS_05 :
Play Length: 00:02:16
Video: PAL 4:3 (720x576) VBR
Audio:
Russian (Dolby AC3, 2 ch)
Subtitles:
Russian
English

VTS_06 :
Play Length: 00:21:41
Video: PAL 4:3 (720x576) VBR
Audio:
Russian (Dolby AC3, 3 ch)
Subtitles:
Russian
English

VTS_07 :
Play Length: 00:01:41
Video: PAL 4:3 (720x576) VBR
Audio:
Russian (Dolby AC3, 2 ch)
Subtitles:
Russian
English

VTS_08 :
Play Length: 00:02:26
Video: PAL 4:3 (720x576) VBR
Audio:
Russian (Dolby AC3, 2 ch)
Subtitles:
Russian
English

VTS_09 :
Play Length: 00:02:12
Video: PAL 4:3 (720x576) VBR
Audio:
Russian (Dolby AC3, 2 ch)
Subtitles:
Russian
English

––––––––––––––––––––––––––––––––

Title: LevTolstoy.84.D9.D2
Size: 5.98 Gb ( 6 271 140,00 KBytes ) - DVD-9
Enabled regions: 1, 2, 3, 4, 5, 6

VTS_01 :
Play Length: 00:00:24
Video: PAL 4:3 (720x576) VBR

VTS_02 :
Play Length: 00:00:21
Video: PAL 4:3 (720x576) VBR
Audio:
Russian (Dolby AC3, 6 ch)

VTS_03 :
Play Length: 00:00:29
Video: PAL 4:3 (720x576) VBR
Audio:
English (Dolby AC3, 2 ch)

VTS_04 :
Play Length: 01:22:01
Video: PAL 4:3 (720x576) VBR
Audio:
Russian (Dolby AC3, 6 ch)
Russian (Dolby AC3, 1 ch)
Russian (Dolby AC3, 1 ch)
Subtitles:
Russian
English

VTS_05 :
Play Length: 00:04:16
Video: PAL 4:3 (720x576) VBR
Audio:
Russian (Dolby AC3, 2 ch)
Subtitles:
Russian
English

VTS_06 :
Play Length: 00:10:50
Video: PAL 4:3 (720x576) VBR
Audio:
Russian (Dolby AC3, 3 ch)
Subtitles:
Russian
English

VTS_07 :
Play Length: 00:04:25
Video: PAL 4:3 (720x576) VBR
Audio:
English (Dolby AC3, 2 ch)

VTS_08 :
Play Length: 00:03:15
Video: PAL 4:3 (720x576) VBR
Audio:
Russian (Dolby AC3, 2 ch)
Subtitles:
Russian
English

VTS_09 :
Play Length: 00:01:41
Video: PAL 4:3 (720x576) VBR
Audio:
Russian (Dolby AC3, 1 ch)
Subtitles:
Russian
English

VTS_10 :
Play Length: 00:01:28
Video: PAL 4:3 (720x576) VBR
Audio:
Russian (Dolby AC3, 2 ch)
Subtitles:
Russian
English


All thanks to the original uploader