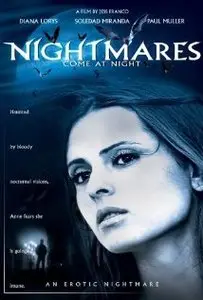 Les cauchemars naissent la nuit / Nightmares Come at Night (1972)
DVD Video | 1hr 23mn | NTSC 4:3 | 720x480 | 6.25 Gb
English \ French: Dolby AC3, 2 ch
Subtitle: English
Genre: Crime | Drama | Horror
IMDB Rating: 5.0/10 (413 votes)
Director:
Jesús Franco (as Jess Franco)
Writers:
Jesús Franco, Josyane Gibert
Stars:
Diana Lorys, Paul Muller, Jack Taylor
In Zagreb, the striper Anna de Istria works in a sleazy cabaret. She is seduced by the blonde Cynthia Robins that invites her to move to her house. Ana is disturbed by nightmares, where she kills a man with a spear, and Cynthia calls Dr. Paul Lucas to treat Ana. Meanwhile, a couple that lives in the house next door spies the movement in Cynthia's house.