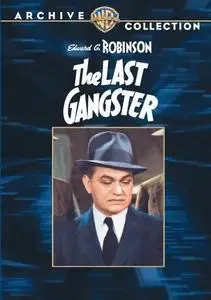 The Last Gangster (1937)
DVDRip | MKV | 696x480 | x264 @ 2192 Kbps | English AC3 2.0 @ 192 Kbps | 81 min | 1,38 Gb
Genre: Crime, Drama, Thriller
Director
: Edward Ludwig
Writers
: John Lee Mahin (screen play), William A. Wellman (original story)
Stars
: Edward G. Robinson, James Stewart, Rose Stradner
Gangster Joe Krozac is in prison for ten years. Reporter Paul North is fired by his newspaper for writing articles sympathetic to Krozac's wife and young son. She divorces Krozac and marries North. When Korzac gets out he goes looking for his former wife and son.
This is one of Edward G. Robinson's best performances. He played the gangster with the expired use by date in a number of movies, most notably in "Key Largo", but here he takes the character on a fascinating journey. He starts as a newly-wed little Napoleon, is crushed by his conviction on tax evasion, degraded through ten years of prison, and tortured to near death by his former gang when released. Through all this he is motivated by a great love for a son he has never met - when he does meet him finally his tender side is released.

What a challenging role this is - and how brilliantly Robinson rises to the challenge. At times you'll hate him, but he is always so vividly real that it is impossible not to empathise. Less effective is Rose Stradner as his wife - she too often slips into melodrama. It is perhaps not surprising to learn that she only made one other film. How fabulous Luise Rainer would have been in this role. The rest of the cast is terrific - that great Warner Bros store of thugs and villains - with Lionel Stander and John Carradine particular stand-outs.

And a pre-star James Stewart is the good guy - he even has a Clark Gable moustache in some scenes (the studio never let him grow that again!). The little boy is very icky - seems more English than American and is far too boy scouty to be appealing.

But add to all this strong direction, a good script, and stunning camera-work and you have a minor masterpiece. The torture scene is really very harrowing and the passage of time in prison montage is excellent - and you've got to love the opening credits.
(click to enlarge)

More in My Blog