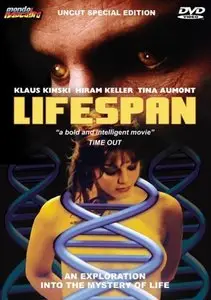 Lifespan (1975)
DVD9 | VIDEO_TS | NTSC 16:9 | 01:21:22 | 5,83 Gb
Audio: English AC3 1.0 @ 192 Kbps | Subtitles: None
Genre: Art-house, Mystery, Sci-fi | Mondo Macabro
Director:
Sandy Whitelaw
Writers:
Judith Rascoe, Alva Ruben
Stars:
Hiram Keller, Tina Aumont, Klaus Kinski
Cult icon Klaus kinski features in this dark and intriguing existential thriller. He plays the mysterious "Swiss Man" - ruthless industrialist Nicolas Ulrich - who is obsessed with a search for the elixier of life. He tricks a young American scientist into joining him on his demonic quest. A quest that ends in suicide, death and madness.
The story takes place in the atmospheric European city of Amsterdam. Its winding alleys and ancient canals trap the characters in a labyrinthine maze as they find themselves manipulated like figures on a giant chessboard.
The film was controversial in its day for the extended bondage scene featuring female star Tina Aumont. This was cut in manu countries, but is complete in this version. The brilliant soundtrack, unavailable for over 30 years, is by avant garde composer Terry Riley.
Tina Aumont is watchable in everything she does. She's a stunning woman, one of the prettiest of the Eurocult starlets of the seventies in this reviewer's opinion, and even if she didn't reach nor does she maintain the popularity of Edwige Fenech, she's still got her fans. The woman was simply gorgeous and even if some of the movies she was in were nothing to write home about, she had a fantastic screen presence. The same can be said about the late Klaus Kinski (not that he was simply gorgeous, but that he had screen presence!). He too was a in a lot of bad films but he was always interesting to watch and he always brought that certain 'something' to the movies that he appeared in.




Enter Lifespan, a 1974 arthouse/science fiction/exploitation hybrid directed by an American and bank rolled by both German and Dutch producers in which Aumont and Kinski co-star alongside the late Hiram Keller (of Seven Death's In A Cat's Eye and Satyricon). Like the two performers mentioned above, it's an interesting movie that has that certain 'something' to it even if it isn't an exceptionally great film, at least by the standards that most movies are judged – but it is very cool in its own right, and certainly worth revisiting now that it's out on DVD.




Dr. Ben Land (Keller) is a scientist who heads from the United States to Europe where he is assigned to work alongside Dr. Linden who is currently researching the ways in which people age, or, gerontology – or not. Ironic then, that shortly after Land shows up, Linden winds up dead, all signs pointing to a suicide. With Linden dead, Land is left to pick up the slack and once his curiousity gets the best of him he starts poking around through Linden's notes and belongings and eventually finds that the man had made some legitimate progress in his field, successfully extending the lives of a few of his lab mice to four years but they still act and behave like they did three years ago, showing no signs of aging at all. Adding to the mystery behind what Linden was really up to is the fact that he was spending an unusual amount of time at a rest home where a few of the residents were knocked off by a nasty case of the flu.




Eventually Land meets up with Anna (Tina Aumont), Linden's former girlfriend, and the two of them hit it off. Soon enough, Anna's got him tying her up in the same way that her late beau used to enjoy doing and the two begin a torrid affair. Land catches on to the fact that Anna knows more than she's willing to speak about, including who was financing so many of Linden's secret projects, while all the while a strange Swiss man (Kinski) is spying on them both.




While this one doesn't move at lightning fast speed, the story unfolds quick enough that it's never dull even when we're not entirely sure what's going on. It's a much more cerebral film than you might expect and at times it almost seems to be getting inside the viewer's head. The direction lends a very cold feeling to a lot of the movie, particularly the sex scenes which play out almost like literal scientific experiments than acts of passion (and in a sense, in the context of the story they are just that) despite the presence of the kinkier elements like the rope play you see on the cover art. In fact, despite the presence of some grauitous flesh on display and some very obvious science fiction themes running throughout, Lifespan is definitely more of an art film than an exploitation film, even if the intentions of the producers may have been otherwise.




Those expecting Kinski to go over the top as he did in so many Werner Herzog films might be disappointed to find that here he is very much toned down, and he shows a lot of restraint save for one or two moments where that maniacal glee for which he is so well remembered for does manage to shine through. He's very good in his part, which is more of a supporting role than a starring role, and he has quite the aura of mystery about him. Aumont is Aumont – she's sexy and sultry and quite the kitten with claws. She does very well in the part and the movie allows her to actually act more than a lot of the trashier films that we all know and love her for. Keller also does a very good job with the movie, he plays the scientist well, looking the part and bringing a believable intelligence to his performance that works quite nicely.




It's easy to see how Lifespan sort of fell through the cracks of cult movie history – it isn't trashy enough or campy enough to really attract the exploitation crowd despite Aumont's ample nude scenes, but it isn't highbrow enough to be of interest to the art crowd either. Like the mystery that it sets out to explore it is a bit of a cinematic enigma, and it remains a legitimate hybrid of a movie that can't really be pegged down to one specific genre.




Mondo Macabro brings another genuine cinematic oddity to DVD in grand style. Lifespan is a pretty interesting blend of science fiction and exploitation, made all the more unusual by the presence of Kinski.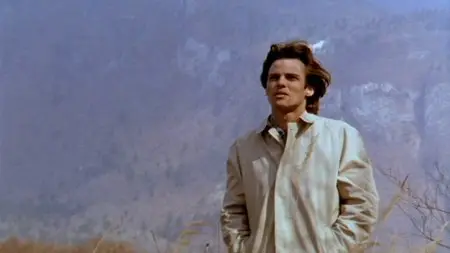 Special Features:
- Audio commentary by director Alexander Whitelaw
- Interview with Alexander Whitelaw (19:48)
- Theatrical Trailer (2:40)
- Black and White Still Gallery
- Color Still Gallery
- Terry Riley Soundtrack Recording Session Gallery
- Mondo Macabro Preview Reel (5:20)
All Credits goes to Original uploader.