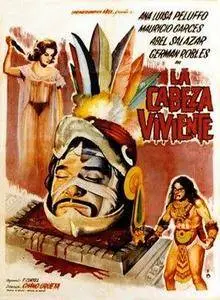 La cabeza viviente / The Living Head (1963)
English or Spanish (2 audio tracks) | DVDRip | MKV | 692x576 | AVC @ 1800 kb/s | 1.19 GB
Audio: AC-3 @ 192 kb/s | 2 channels | 01:18:11 minutes | Subs: English, French (embedded)
Genre: Horror
Acatl, chief of the Aztecs, is murdered and his head is cut off. At the same time, Xochiquetzal, his betrothed, is buried alive, along with the Grand Priest. Centuries later, archeologist Herman Mueller and his assistants Tony and Charley unearth the tomb. The mummy of Xochiquetzal disintegrates, but the heads of Acatl and the priest remain preserved. Herman takes his discoveries home to his daughter Martha, to whom he gives an Aztec ring known by legend as a ring of death. Soon afterwards, Charley becomes the victim of a human sacrifice, and the heads of Acatl and the priest return to life to place Martha under a spell. Although Martha is able to resist Acatl's orders to murder her father, her fiance, Robert, falls under a similar spell. Eventually, however, the curse of the living head is broken.