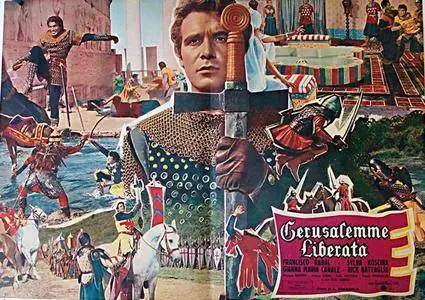 The Mighty Crusaders / La Gerusalemme liberata (1958)
English or Italian (2 audio tracks) | TVRip | AVI | 720x304 | XviD @ 1906 kb/s | 1.58 GB
Audio: AC-3 @ 192 kb/s | 2 channels | 01:38:24 minutes
Genre: Action, Adventure, Drama
SEE- The Dance of the seven orgies! SEE- The duel to the death with 100-pound battle axes! SEE- The seduction of Renaldo, the White Knight, by the dark daughter of Damascus! SEE- The mammoth battle between Heathens and Knights for the Holy Sepulcher! SEE- Assault towers and battering rams breach the walls of the Holy City! SEE- Men turned into human torches by the flaming pitch of the Infidels!