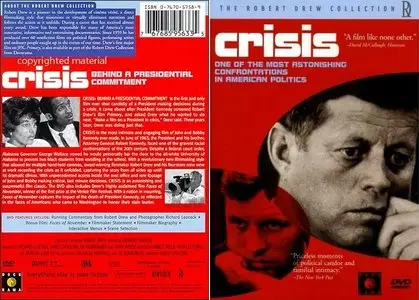 Crisis: Behind a Presidential Commitment (1963)
DVD5 | VIDEO_TS | NTSC 4:3 | 52:41 | 3,84 Gb
Audio: English AC3 2.0 @ 224 Kbps | Subtitles: None
Genre: Documentary
Director:
Robert Drew
Stars:
John F. Kennedy, George Wallace, Robert F. Kennedy
An incredible and candid look at JFK and RFK as they struggle with the integration crisis in 1963. With Governor George Wallace blocking the doors to the all-white University of Alabama, this documentary shows the Kennedy brothers embroiled in the decision making process, uncertain if an course of action is the right one.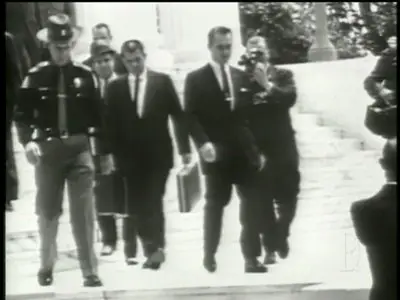 A truly remarkable documentary which had cameras with all the principals involved in the confrontation between Governor George Wallace of Alabama and the federal courts in letting two black students enroll in the University of Alabama at Tuscaloosa. I was awed at witnessing the planning sessions of President John F. Kennedy, Attorney General Robert F. Kennedy, General Abrams, Deputy Attorney General Nicholas Katzenbach, etc.




The University had already approved the admission of the two students; Alabama was the only remaining state which had not fully integrated its university system, and Governor Wallace vowed to stand at the entrance and prevent the students from entering. What the federal government will do when that happens is the focus of the documentary? The tension is real! The drama is real! The participants are real!




A most extraordinary documentary I never knew existed before it bowled me over when I saw it in 1981 in a theater, and again when recently shown on the Turner Classic Movies channel. I would have thought it could never have been made. After all, I'm sure Governor Wallace knew it was a lost cause, yet he gave permission for the film makers to film him and his staff and the confrontation. The principals were covered by four teams of film makers and most of the footage appeared unstaged. Shots of Robert Kennedy at home with his kids and George Wallace with his daughter (or granddaughter) helped to make them more human rather than larger than life. The sense of history was overpowering. A must see for anyone interested in the civil rights movement or any of the participants.


IMDB Reviewer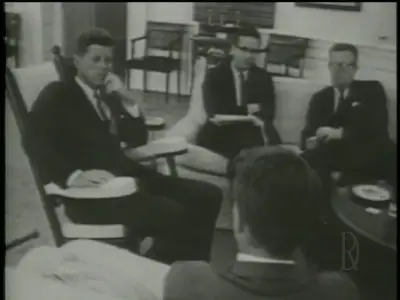 "Crisis" is a documentary film that was quite unique for its day. A film that throws us, the viewer, right into the center of the action as the situation is unfolding LIVE. Very few, if any, filmmakers had tried this "as-it-is-happening" approach to movie-making prior to Mr. Robert Drew. His roster of films gives viewers a fascinating, and fresh, perspective on many different topics – and his two major films featuring John F. Kennedy are certainly two of the best, IMO.




So if you want to watch a variation of NBC-TV's "The West Wing" – only for REAL – pick up this first-rate DVD of "Crisis: Behind A Presidential Commitment". And don't forget about the bonus film, "Faces Of November". Its presence here elevates this DVD to "Must Have" status.


Customer Review, amazon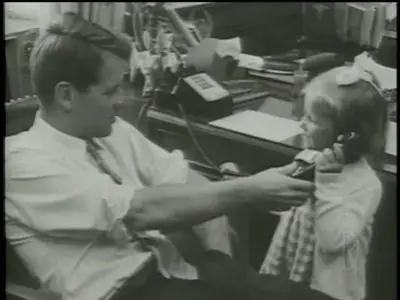 With its use of then cutting-edge portable camera and sound equipment, this historic doc achieves a rare and fascinating immediacy. Drew negotiated wide access for his camera operators (which included future filmmakers Albert Maysles, Richard Leacock and D. A. Pennebaker), so we don't miss a thing as the conflict escalates. The film shows us the contest from all angles as well; even the repellant Wallace gets a fair hearing. We also get to witness the small, human moments that happen around big history, whether it's RFK unable to find the right phone in his office, or Wallace playing a quick game of catch with a neighborhood kid. Don't miss this illuminating piece of Presidential history.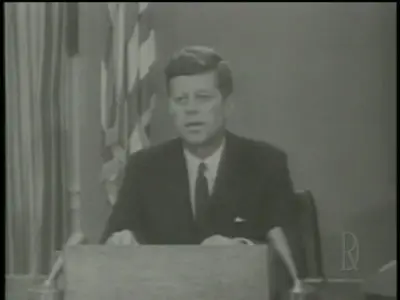 Special Features:
- Audio Commentary track with Director Robert Drew
- Bonus film: Faces of November (11:54)
- About Filmmaker
- Trailers
All Credits goes to Original uploader.