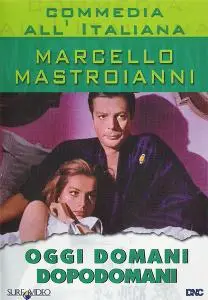 Kiss the Other Sheik / Oggi, domani, dopodomani (1965)
Italian | DVDRip | MKV | 714x552 | AVC @ 2000 kb/s | 1.52 GB
Audio: AC-3 @ 192 kb/s | 2 channels | 01:39:09 minutes | Subs: English, Italian (embedded)
Genre: Comedy
Marcello Mastroianni stars in this film which combines much of the 1965 release Paranoia with new footage. A police inspector is told of the bizarre behavior of a pistol-packing papa who shoots blanks at his wife to keep her intimidated. He inserts a real bullet every so often just to let her know she should pay attention. Another story has Mastroianni as a man who tries to sell his blonde wife to a wealthy sheik with a large harem. His wife has her own ideas and sells her husband instead as an addition to a male harem. He is condemned to servitude as the beautiful blonde steps into a luxury car and leaves him in the desert.