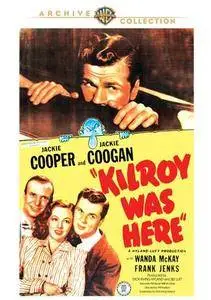 Kilroy Was Here (1947)
English | DVDRip | MKV | 720x480 | AVC @ 2304 kb/s | 1.23 GB
Audio: AC-3 @ 192 kb/s | 2 channels | 01:09:10 minutes
Genre: Comedy
Returning G. I. John J. Kilroy (Jackie Cooper), whose main ambition is to get a college education, finds himself one-half credit short for college entrance. Connie Harcourt (Wanda McKay) writes feature stories about him as "Kilroy,", the most talked about G. I. of the war, and is able to get him registered. Fraternity members grow dubious and attempt to make him withdraw from college.