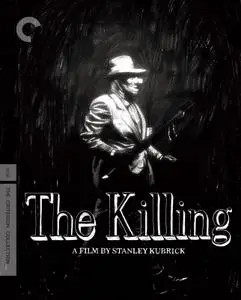 The Killing (1956) + Extras
BDRip 1080p | MKV | 1920 x 1080 | x264 @ 14,0 Mbps | 1h 24mn | 8,90 Gb
Audio: English DTS HD-MA 1.0 @ 1024 Kbps | Subtitles: English (embedded)
Genre: Crime, Drama, Film-Noir | Director: Stanley Kubrick | Extras: 1,47 Gb
Stanley Kubrick's account of an ambitious racetrack robbery is one of Hollywood's tautest, twistiest noirs. Aided by a radically time-shuffling narrative, razor-sharp dialogue from pulp novelist Jim Thompson, and a phenomenal cast of character actors, including Sterling Hayden, Coleen Gray, Timothy Carey, Elisha Cook Jr., and Marie Windsor, The Killing is both a jaunty thriller and a cold-blooded punch to the gut. And with its precise tracking shots and gratifying sense of irony, it's Kubrick to the core.
(Enlargeable)

Extras:
–
James B. Harris
- an exclusive video interview with producer James B. Harris conducted for Criterion in 2010. The interviewee discusses his collaboration with director Stanley Kubrick and the production history of The Killing (22 min).
–
Sterling Hayden
- excerpts from two episodes of the French program Cinema cinemas, one from April 1 and another from July 3, 1984, directed by by Philippe Garnier, in which actor Sterling Hayden recalls his history in Hollywood, fascination with communism, and work with director Stanley Kubrick. In English, with burnt-in French subtitles (24 min).
–
Polito on Thompson
- in this video interview, poet and author Robert Polito (Savage Art: A Biography of Jim Thompson) discusses celebrated crime novelist Jim Thompson's work with director Stanley Kubrick, his problematic relationship with Hollywood, and his ongoing cinematic legacy (19 min).