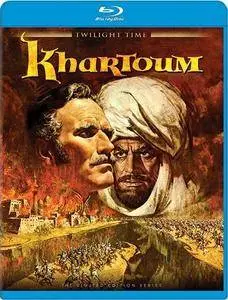 Khartoum (1966)
BDRip 720p | MKV | 1280 x 720 | x264 @ 2560 Kbps | 2h 16mn | 2,59 Gb
Audio: English AC3 2.0 @ 160 Kbps | Subtitles: English (embedded)
Genre: Action, Adventure, Drama | Directors: Basil Dearden, Eliot Elisofon
After an Egyptian army, commanded by British officers, is destroyed in a battle in the Sudan in the 1880's, the British government is in a quandary. It does not want to commit a British military force to a foreign war but they have a commitment to protect the Egyptians in Khartoum. They decide to ask General Charles "Chinese" Gordon, something of a folk hero in the Sudan as he had cleared the area of the slave trade, to arrange for the evacuation. Gordon agrees but also decides to defend the city against the forces of the Mahdi - the expected one - and tries to force the British to commit troops.
IMDB
- Nominated for 1 Oscar
The siege of Khartoum and its loss under General Charles "Chinese" Gordon is one of those epic tales the Victorians loved. Gordon was such a flamboyant character that even Hollywood could not match him. "Khartoum" gives us the Victorian Epic while at the same time the seedier backroom Victorian politics that essentially sent Gordon to his death along with the citizens of Khartoum. Charleton Heston is quite good as Gordon ably giving us the many enigmatic facets of the real man's character. But even that falls short as I think Gordon is too complex a character for any actor. Olivier in black face as the Mahdi may offend the political correctness crowd but his performance is excellent, fair and avoids lapsing into carricature. The physical production is quite impressive with 2nd unit director Yakima Canut staging some very impressive battle scenes. If you want a sequel to this film than I would recommend the original 1930's version of "The Four Feathers" (which stared a very young John Gielgud) which takes place some 10 years after the events of "Khartoum" and centers on the retaking of the Sudan. Interesting to have a "sequel" come 30 years before. There is a TV remake of "The Four Feathers". Avoid it like the plague!
(Enlargeable)