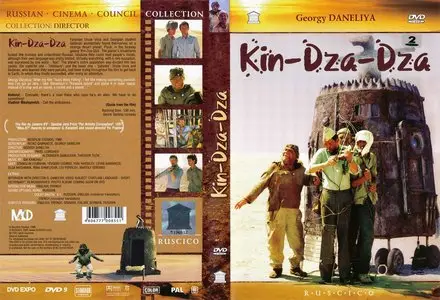 Kin-dza-dza! / Кин-дза-дза! (1986)
DVD Video | 2 х ~ 1hr 03mn | PAL 4:3 | 720x576 | 4,54 Gb + 5,23 Gb
Russian \ English \ French: Dolby AC3, 6 ch; Russian: Dolby AC3, 2 ch
Subtitle: Russian, English, French, German, Spanish, Italian
Genre: Comedy | Drama | Sci-Fi
IMDB Rating: 8.2/10 (9.332 votes)
Director:
Georgiy Daneliya
Writers:
Georgiy Daneliya, Revaz Gabriadze
Stars:
Stanislav Lyubshin, Evgeniy Leonov, Yuriy Yakovlev
Kin-Dza-Dza is something like an "advanced cyberpunk film". It's a lot about people and social structures which on the planet of "Pluke" of course have many parallels to our society. It's a very funny movie, but it's also a melancholic movie with great philosophical sense.
Название:
Кин-дза-дза!
Год выпуска:
1986
Жанр:
Фантастика, драма, комедия
Выпущено:
Россия, СССР, Мосфильм
Режиссер:
Георгий Данелия
В ролях:
Станислав Любшин, Евгений Леонов, Юрий Яковлев, Леван Габриадзе, Ольга Машная, Ирина Шмелева, Лев Перфилов, Георгий Данелия, Александра Дорохина, Галина Данелия-Юркова, Валентин Маренков, Владимир Федоров, Людмила Солоденко, Александр Горбачев, Леонид Машков
О фильме:
Прораб Владимир Николаевич Машков и не подозревал, что обычный путь до универсама за хлебом и макаронами обернется межгалактическими путешествиями. А все эта встреча со студентом в кроличьей шапке с большой сумкой и с каким-то маленьким устройством — «машинкой перемещения», как он ее сам называл. Короче, нажал на кнопку — и оказался вместе с молодым человеком в пустыне, и не в каких-нибудь Каракумах, а на планете-пустыне Плюк в тентуре, галактика Кин-дза-дза в спирали…