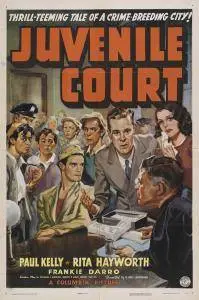 Juvenile Court (1938)
English | TVRip | AVI | 640x480 | XviD @ 1615 kb/s | 699 MB
Audio: MP3 @ 60.3 kb/s | 1 channel | 00:57:55 minutes
Genre: Crime, Drama
Public Defender Gary Franklin, frustrated by being unable to save criminal Dutch Adams from a death sentence by blaming the slums environment as the cause of Dutch's crimes, enlists the aid of Dutch's sister, Marcia Adams, to get the slum dwellers at appeal for public monies to provide recreational places for the slum kids. The Governor provides seed money for the creation of PAL (the Police Athletic League) and all is going well until "Stubby" Adams holds up the box office at a fund raiser for the PAL, and puts the project in jeopardy. Do-gooder story aside, the film is basically a Columbia version of the Dead End Kids, with the hard-headed Darro standing in for Leo Gorcey and Hally Chester as his stand-in Huntz Hall-like punching bag.