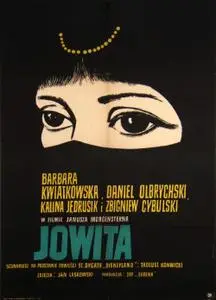 Jovita (1967)
DVDRip | MKV | 720x576 | x264 @ 1950 Kbps | 95 min | 1,47 Gb
Audio: Polski AC3 5.1 @ 256 Kbps | Subs: English (srt)
Genre: Drama, Romance
Director:
Janusz Morgenstern
Writers:
Stanislaw Dygat (novel), Tadeusz Konwicki
Stars:
Daniel Olbrychski, Barbara Lass, Kalina Jedrusik
Marek is a gifted runner who believes the world is his for the taking. His success on the track carries over to his personal life, where he is supremely confident in social situations and with women. One night at a masquerade ball, he meets Yovita and is immediately drawn to her. Marek believes Yovita is the woman he is destined to love but soon loses track of the mysterious woman. Consoled by his friend Agnieszka, Marek becomes frantic when he discovers that Yovita must soon leave the country. He lacks interest in athletics but is pushed by his hard-driving coach (Zbigniew Cybulski), who shows no sympathy for his love-struck track star. Marek's confidence is shaken until the surprise ending.
What shall I call this film, the closest I can perhaps get is sports noir, and trust me, I am not kidding. The movie has a great story, combining sports and mystery beautifully, and the style and atmosphere deeply resonate with elements of film noir. Yes, there is no crime or money, at least not perceptibly, but this definitely has an overtone of moral crimes that lies at the center of the drama. The story follows Marek Arens' (an ace runner) quest and his slow demystification of an enigma named Jowita, an illusive girl he meets fleetingly at a party. Slowly his search consumes him, and gradually, in his restlessness, Marek starts sacrificing himself. He is caught between reality and illusion(?) and this exact feeling is captured by the director perfectly. Various closeups of ladies never lets you relax, you can never ignore the omnipresence of Jowita; several characters are introduced who create doubts in your mind; the music has a tense quality (btw, I think the Skyfall theme has been ripped from this theme) and the orchestra (and the superb violinist) adds to the gripping atmosphere. In between all the tension, and love, sometimes solicited sometimes not, Marek starts to lose himself and tries to draw away from racing. Enter Zbigniew Cybulski with a powerhouse cameo that I absolutely loved. Actually I found a distinct flavor in how the behaviors, conversations and attitudes of sports people is captured and how that becomes an intricate part of Marek's journey. "Life is an Olympics" alright! The film is also very much about the nature of romance and it actually outlines the diverse nature of love and how, sometimes, it can be torturous to choose between fantasy and reality.
(click to enlarge)

More in My Blog