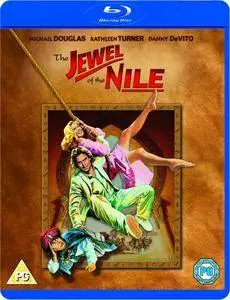 The Jewel of the Nile (1985)
BDRip 720p | MKV | 1280 x 720 | x264 @ 2560 Kbps | 1h 45mn | 2.39 Gb
Audio: English AC3 5.1 @ 448 Kbps + Commentary track | Subtitles: English
Genre: Action, Adventure, Comedy | Director: Lewis Teague
Joan Wilder and Jack Colton are back in the fast lane on a perilous trek through the North African Desert, facing treacherous tribes, deadly dungeons, and seemingly endless villains in the search for the elusive "jewel." Plucky romance novelist Joan Wilder is thrust back into a world of murder, chases, foreign intrigue… and love. This time out she's duped by a duplicitous Arab dignitary who brings her to the Middle East, ostensibly to write a book about his life. Of course he's up to no good, and Joan is just another pawn in his wicked game. But Jack Colton and his sidekick Ralph, old friends from her previous adventures, show up to help our intrepid heroine save the day.
(Enlargeable)
Audio Commentary
track with director Lewis Teague. In the first few minutes of the track, the director discusses the impact of the film on his career, chatting with Michael Douglas before officially being brought on board and the star's impressions of Teague's work, the importance of grounding the film in reality, his work on the script and the tight schedule, the advantages of making a sequel, and more. The first few minutes of the track are easily the best, but the entire track remains easy to listen to and mostly interesting. Offering up a mixture of standard stories recounting shooting locations and the harsh conditions of much of the shoot with a discussion of some of his favorite scenes and the challenge of working with non-professional actors (the Flying Karamazov Brothers, for example), Teague remains generally easy to listen to, in spite of some dead air
Romancing the Stone (1984)