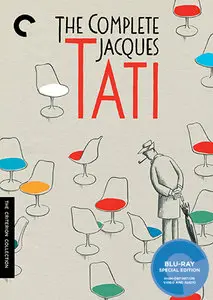 The Complete Jacques Tati - Blu-Ray 7. Tati Shorts (1934-1978) [The Criterion Collection]
Blu-Ray | BDMV | AVC, 1920x1080, ~32.5 Mbps | ~ 2hr 30mn | 42,1 GB
French: AC3, 1 ch, 192 kbps
Subtitles: English
Genre: Comedy | Family | Documentary

Director:
Jacques Tati
This last Blu-Ray contains seven restored shorts:
- On demande on brut (1934, 25:01) stars Tati (who also writes but does not direct) in a film about a young man who has to pretend he's a wrestler.
- Gai dimanche (1935, 21:31) is Tati's directorial debut (though he co-directed it with Jacques Berr), as he and a friend start a low-rent tour company offering their unique perspective on leisure.
- Soigne ton gauche (1936, 13:23) is again written by Tati and finds him as a comedic fantasy boxer.
- L'ecole de facteurs (The School for Postmen) (1946, 16:05) finds Tati working on the character who would eventually appear in Jour de Fete.
- Cours du soir (1967, 28:36) is ostensibly a lesson in mime from Tati, but really it's an excuse for the actor to recreate the vaudeville-style act that made him famous initially.
- Degustation maison (1978, 13:58) is a film by Tati's daughter that returns us to the town featured in Jour de Fete.
- Forza Bastia (1978, 27:37) is a documentary about soccer started by Tati and finished by his daughter.
Extras:
- Professor Goudet's Lessons (31:28)
- Tati Story, a short biographical film from 2002 (20:38)


DISC INFO:

Disc Title: JcTati7.TatiShorts.BR
Disc Size: 45 217 738 196 bytes
Protection: AACS
BD-Java: Yes
BDInfo: 0.5.8

PLAYLIST REPORT:

Name: 00807.MPLS
Length: 0:31:27.919 (h:m:s.ms)
Size: 4 522 967 040 bytes
Total Bitrate: 19,17 Mbps

VIDEO:

Codec Bitrate Description
––- –––- –––––-
MPEG-4 AVC Video 17992 kbps 1080i / 29,970 fps / 16:9 / High Profile 4.1

AUDIO:

Codec Language Bitrate Description
––- –––– –––- –––––-
Dolby Digital Audio French 192 kbps 1.0 / 48 kHz / 192 kbps

SUBTITLES:

Codec Language Bitrate Description
––- –––– –––- –––––-
Presentation Graphics English 67,943 kbps


–––––––––––––––––––––––––––––––––––––––––––––––––––––––-

PLAYLIST REPORT:

Name: 00804.MPLS
Length: 0:28:36.840 (h:m:s.ms)
Size: 7 350 263 808 bytes
Total Bitrate: 34,25 Mbps

VIDEO:

Codec Bitrate Description
––- –––- –––––-
MPEG-4 AVC Video 32490 kbps 1080p / 23,976 fps / 16:9 / High Profile 4.1

AUDIO:

Codec Language Bitrate Description
––- –––– –––- –––––-
Dolby Digital Audio French 192 kbps 1.0 / 48 kHz / 192 kbps

SUBTITLES:

Codec Language Bitrate Description
––- –––– –––- –––––-
Presentation Graphics English 31,459 kbps

–––––––––––––––––––––––––––––––––––––––––––––––––––––––-


All thanks to the original uploader