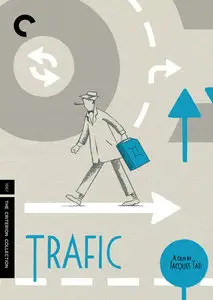 The Complete Jacques Tati - Blu-Ray 5. Trafic (1971) [The Criterion Collection]
Blu-Ray | BDMV | AVC, 1920x1080, ~35.2 Mbps | 1hr 37mn | 40,5 GB
French: LPCM Audio, 1 ch, 1152 kbps
Subtitles: English
Genre: Comedy
IMDB Rating: 7.3/10 (3.259 votes)
Director:
Jacques Tati
Writer:
Jacques Tati, Jacques Lagrange
Stars:
Jacques Tati, Marcel Fraval, Honoré Bostel
At Altra Motors, Mr. Hulot designs an ingenious camper car with lots of clever features. A lorry hauls the prototype to an important auto show in Amsterdam, with Mr. Hulot alongside in his car and a spoiled, trendy PR exec, the young Maria, in her sports car packed with designer clothes and her fluffy dog. The lorry has every imaginable problem, delaying its arrival. A flat tire, no gas, an accident, a run-in with police, a stop at a garage, and numerous traffic jams showcase vignettes of people and their cars. Through interactions with these down-to-earth folks, Maria gradually loses her imperious conceit, becoming much more relaxed and fetching.
Extras:
- Jacques Tati in Monsieur Hulot's Works - UK TV Omnibus program
- Trafic Trailer


DISC INFO:

Disc Title: JcTati5.Trafic.71.BR
Disc Size: 43 588 237 515 bytes
Protection: AACS
BD-Java: Yes
BDInfo: 0.5.8

PLAYLIST REPORT:

Name: 00001.MPLS
Length: 1:37:41.438 (h:m:s.ms)
Size: 28 783 239 168 bytes
Total Bitrate: 39,28 Mbps

VIDEO:

Codec Bitrate Description
––- –––- –––––-
MPEG-4 AVC Video 35206 kbps 1080p / 23,976 fps / 16:9 / High Profile 4.1

AUDIO:

Codec Language Bitrate Description
––- –––– –––- –––––-
LPCM Audio French 1152 kbps 1.0 / 48 kHz / 1152 kbps / 24-bit

SUBTITLES:

Codec Language Bitrate Description
––- –––– –––- –––––-
Presentation Graphics English 16,320 kbps

FILES:

Name Time In Length Size Total Bitrate
–– –––- ––– –– ––––––-
00274.M2TS 0:00:00.000 1:37:41.438 28 783 239 168 39 285


–––––––––––––––––––––––––––––––––––––––––––––––––––––––-



All thanks to the original uploader