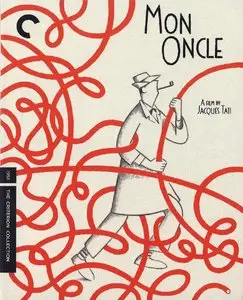 The Complete Jacques Tati - Blu-Ray 3. Mon oncle (1958) [The Criterion Collection]
Blu-Ray | BDMV | AVC, 1920x1080, ~21.0 Mbps | 1hr 56mn | 45,3 GB
French: LPCM Audio, 1 ch, 1152 kbps
Subtitles: English
Genre: Comedy
IMDB Rating: 7.9/10 (11.779 votes)
Director:
Jacques Tati
Writer:
Jacques Lagrange, Jean L'Hôte
Stars:
Jacques Tati, Jean-Pierre Zola, Adrienne Servantie
Monsieur Hulot's brother-in-law is the manager of a factory where plastics are manufactured. His nephew grows up in a house where everything is fully automated and the boy is raised in a similar fashion. To take away the influence of the uncle on his son, his brother-in-law gets Hulot a job in his factory.
Extras:
- Terry Jones Intro to Mon oncle
- My Uncle, the version of Mon oncle that director Jacques Tati created for English-language audiences
- Once Upon a Time . . . "Mon oncle", a 2008 documentary on the making of the film
- Everything Is Beautiful, a, 3-part, 2005 piece on the fashion, furniture, and architecture of Mon oncle
- Everything's Connected - a visual essay by Tati expert Stephane Goudet
- "Le Hasard de Jacques Tati" - 1977 French TV Episode


DISC INFO:

Disc Title: JcTati3.MonOncle.58.BR
Disc Size: 48 686 579 930 bytes
Protection: AACS
BD-Java: Yes
BDInfo: 0.5.8

PLAYLIST REPORT:

Name: 00001.MPLS
Length: 1:56:25.561 (h:m:s.ms)
Size: 21 352 605 696 bytes
Total Bitrate: 24,45 Mbps

VIDEO:

Codec Bitrate Description
––- –––- –––––-
MPEG-4 AVC Video 20992 kbps 1080p / 23,976 fps / 16:9 / High Profile 4.1

AUDIO:

Codec Language Bitrate Description
––- –––– –––- –––––-
LPCM Audio French 1152 kbps 1.0 / 48 kHz / 1152 kbps / 24-bit

SUBTITLES:

Codec Language Bitrate Description
––- –––– –––- –––––-
Presentation Graphics English 16,814 kbps


–––––––––––––––––––––––––––––––––––––––––––––––––––––––-



All thanks to the original uploader